Kieran Foran considering legal action after News Corp report of betting plunge

ABC Grandstand
21/05/2016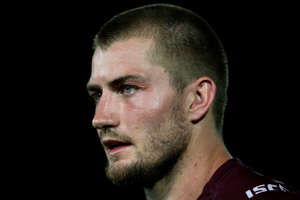 Parramatta half-back Kieran Foran is considering legal action over a report claiming he lost $75,000 while gambling, according to the Rugby League Players Association (RLPA).
A News Corp story said a TAB account linked to Foran lost the huge sum in a matter of hours and the RLPA said in a statement it was appalled by the story.
The statement also said it had contacted the 25-year-old's management company, which was considering legal avenues.
"We have been informed there are factual inaccuracies in the story and we understand these matters, together with any breaches of privacy and confidentiality, are being pursued legally by Kieran's management, SFX Sports," the statement read.
"It is disturbing that a story of this nature has been published by News Limited when it is public knowledge that Kieran is currently dealing with complex personal matters."
Foran was granted a leave of absence by the Eels in mid-April to deal with personal issues and was only confirmed to return to play this week, with the team preparing to meet Melbourne on Monday.
The RLPA said Foran, who made a high-profile switch from manly to Parramatta ahead of the 2016 season, has been receiving treatment at a hospital in Brisbane.
"The treatment has progressed well and Kieran has recovered to the point that his doctor considers it best for him to now return to footy as part of his treatment plan," it said.
"This decision has been made by Kieran based purely on medical advice and what is in his best interests."