Kohli's India similar to New Zealand's All-Blacks: Pothas

Wisden India
7/09/2017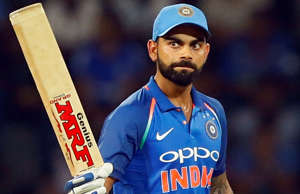 © REUTERS/Dinuka Liyanawatte India's team captain Virat Kohli celebrates his half century. Nic Pothas likened the current Indian cricket team to the All Blacks in the aftermath of Sri Lanka's 9-0 series loss.
It was a bit of a surprise that Sri Lanka's interim coach, a South African, used one of the greatest rugby sides in the world as an analogy to Virat Kohli's side, but you could see why someone would compare India to the legendary New Zealand side.
"You look at their team and they are very All Black-like," said Pothas. "There's a lot of respect for the opposition. They are very ruthless in the way they go about their work. Their work-ethic is immense. They are what a lot of teams aspire to be. The most important thing for us is learning from our mistakes, but most importantly, learning from them."
Pothas's assessment came in the wake of India scaling Sri Lanka's 170 at the R Premadasa Stadium in Colombo on Wednesday (September 6). Kohli was the man leading the side in yet another run chase, scoring 82 from 54 balls to carry the side to their ninth win on the trot.
Preceding the one-off Twenty20 International, India had swept Sri Lanka in the five-match One-Day International series and whitewashed them 3-0 in the Tests.
"You've got to look at the quality they have in that side. It's a side with immense quality. It's always going to be tough to compete against them, or to try and beat them. They do so many things very well," Pothas waxed lyrical.
He then went onto speak about Kohli's role in India being this force: "You see the respect Virat Kohli commands on the field as a leader. He's a role model to people and he pulls people with him. When you look at the way they go about their work and the culture that Virat has created within that team, it's very, very impressive."Among the rare positives for Sri Lanka on the tour was Angelo Mathews's return to form. Mathews, who stepped down as skipper before the start of this series, who was seemingly out of touch and runs, came up with some decent knocks in the limited-overs section, but it was evident that age has been catching up with him.
"It's very tough on Angie," offered Pothas. "When you're a senior player, obviously the opposition targets you. Then, you have that pressure of being a senior player to perform. It's very, very tough. Angie is a world-class cricketer and I don't think you can ever judge any person over a short spate of games. We're all cliched about it, but form is temporary and Angie is a class cricketer. Outside of being a class cricketer, he's a very, very intelligent man. So he'll go back, work on it, we'll have discussions - I have no issues with Angie."
© Provided by Wisden

"They are very ruthless in the way they go about their work. Their work-ethic is immense. They are what a lot of teams aspire to be," said Nic Pothas on team India.

What he did seem to have an issue with but did not show much of it was that Upul Tharanga, Sri Lanka's limited-overs skipper, had announced on Monday that he would take a break from Test cricket for six months to hone his limited-overs skills.

"I don't know, he did not discuss this with me," said Pothas with a shrug when asked if Tharanga had spoken to him before taking the decision. "You should ask him."

The press conference seemed to be headed in the direction of the one he offered after the first ODI where he spoke of "too many cooks", but Pothas was more restrained this time around. He instead chose to speak of how hope remained for cricket in Sri Lanka.

"We've got a lot of good players in this team. It's just a matter of giving them the confidence and the belief that they are very good players and will become world-class players," he said.

Speaking about their latest loss, Pothas said: "If you looked at how we played, we were probably 15 short of what we could have got on that wicket. We probably had a few too many little cameos that we could have dragged on a little bit longer. What we got was probably competitive but when you play a team of such quality, you're going to have to be very good in the field and with the ball to try and stop 170 being scored."