Lydia Ko's ace vaults her into Olympic contention

USA TODAY SPORTS
19/08/2016
World No. 1 Lydia Ko has amazed the golf world since becoming the youngest to win an LPGA tour event in 2012 when she was 14.
She also is the youngest in LPGA history to win a major, the youngest to win two majors, and has 14 LPGA titles so far.
Yet somewhat shockingly, the record-setting phenom, now 19, finally did something Friday in the third round of the women's Olympics tournament that she'd never done before.
She made a hole-in-one. 

Hello, Lydia Ko! pic.twitter.com/7X6lwRmsdl

— Lady Golfer Magazine (@LadyGolferMag) August 19, 2016
Ko aced the No. 8 hole of the windswept Olympic Golf Course using a 7-iron from 140 yards. Earlier in the day, Xiyu Lin of China aced the same hole using an 8-iron.
Ko's ace was the highlight of a front-nine 29 as she raced into the medal picture with a 6-under-par 65, the lowest round of the day.
At 9 under, she is two shots out of the lead set by South Korea's Inbee Park.
"I couldn't believe it when the ball disappeared" said Ko, the reigning LPGA Player of the Year who has four titles this year and is representing New Zealand this week.
"To do that at the Olympics, it doesn't get any better than that. … I almost didn't know how to react, because it is your first one, and the wind is blowing and I haven't had the best luck when it comes to hole‑in‑ones.
I had two chances at KPMG (Women's PGA Championship) that kind of decided to not go in.
"I would have loved to like done a dance or jumped up and down, but that situation, I think I was almost trying to cry, and then I realized, hey, I've got 11 more holes, get out of it."
After two so-so rounds to open the tournament, Ko got everything she could out of her game in the third round as wind gusts battered the course and scorecards.
Lydia Ko can laugh all she wants.

She shoots 29 on the front nine with a hole-in-one!#OlympicGolfpic.twitter.com/NEJEAwGrfx

— PGA TOUR (@PGATOUR) August 19, 2016
Ko finally got some momentum going with her putter and now will be in the final group in Saturday's final round.
"I had 6‑under in my head (before the round) and to have done that, I think is really cool. I didn't expect the wind to be this strong today. I said 6 under, but it feels more like 10‑under," Ko said.
"Some holes, when you are making par, you feel like you're making birdies. That's what the situation and conditions were like out there. I think I've done a good job of putting myself in there and still having the chance to be standing on that podium, and just to see some putts go in was really good. That kind of boosted the confidence a little bit."
Ko won't get ahead of herself in the final round.
"I think the most important thing for me is to just focus on me and just focus on the shot I have in front of me," she said.
"I always say that if I can play solid, and somebody plays better than me, it's really out of my hands.
"We all know that there is a lot on the line at the end of tomorrow, but I think I've just got to take it on as just another day out there and just focus on the shot I have in front of me, and have a lot of fun."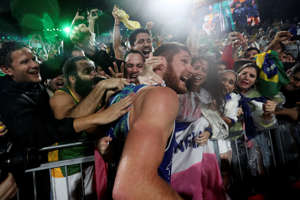 More from USA Today Sports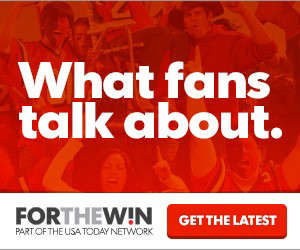 USA TODAY SPORTS