Michael Phelps' son Boomer is stealing the show

CBC
10/08/2016
By Aaron Stern, CBC Sports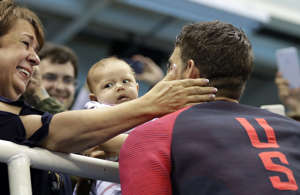 © Canadian Press With 21 Olympic gold medals (and a #PhelpsFace) to his credit, Michael Phelps has been dominating the headlines recently. Yet, even with all of this attention, it's been the swimmer's adorable son Boomer who has started to steal the spotlight from his father.
The three-month-old social media darling recreated his father's #Phelpsface with a death stare that matched up to the original: 
Boomer Phelps is already following his dad's footsteps I see pic.twitter.com/xMt2hKvhEt

— Claudia Koerner (@ClaudiaKoerner) August 9, 2016
There was a great moment after Phelps won his 20th Olympic gold medal where he went over and gave big, bad Boomer a smooch. The tyke just played it off like a boss: 
Want your heart to melt? Watch Michael Phelps kiss his 3-month-old son, Boomer, after winning gold https://t.co/GxagsTEsH4

— CBC Olympics (@CBCOlympics) August 10, 2016
If you're as big of a fan of this world-class baby as we are, then you can check out much more of Boomer on his personal Instagram account:
​
Related video

Share your favourites with us @CBCOlympics!