Mousasi doesn't expect confrontation with McGregor: He's all 'talk'

SB Nation
24/10/2016
Last week, UFC middleweight Gegard Mousasi alleged that Conor McGregor had threatened him with a knife in a private message.
"The f----- was threatening me with a knife. He knows I could beat his a-- any day," Mousasi said in an interview with Flo Combat.
The Iranian-born fighter says the two got into it in private messages on social media after McGregor took offence to some of his words at UFC 204's post-fight press conference. 'The Dreamcatcher' made a diss at McGregor's bottle throwing antics with Nate Diaz prior to UFC 202.
© Per Haljestam-USA TODAY Sports UFC middleweight Gegard Mousasi. Mousasi recently caught up with MMA Junkie's Chamatkar Sandhu and elaborated on the drama.
"If he steps up to me and talks, then probably," Mousasi said when asked if he thinks the situation will intensify. "But he's just talk."
Mousasi says he egged McGregor on in the PM's and believes Eddie Alvarez will beat 'The Notorious' at New York's UFC 205 spectacle.
"I said, 'Say it to my face,' but he's not going to do that because he's not going to win," Mousasi said. "I'm not challenging him. That's not a fight. The guy, he feels strong words for someone on Twitter."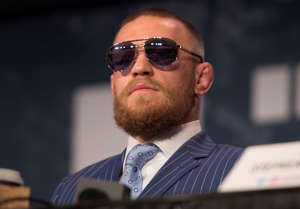 © Jeff Bottari/Getty Images UFC featherweight champion Conor McGregor. Although McGregor has fought at welterweight, it's highly unlikely that he'd challenge a former Strikeforce light heavyweight champion in Mousasi. The featherweight champion will look to add the lightweight belt to his collection when he takes on Alvarez at Madison Square Garden on November 12.
Mousasi, who recently shot up the rankings with a second round TKO of Vitor Belfort, will have a chance to avenge his loss to Uriah Hall at UFC Belfast on Nov. 19. The 31-year-old was knocked out with a spectacular spinning back kick followed up with punches at UFC Fight Night 75.