Nico Rosberg accuses Lewis Hamilton over Austrian GP crash

Sky Sports
3/07/2016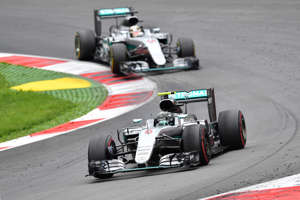 © AP Photo/Kerstin Joensson Mercedes driver Nico Rosberg of Germany steers his car in front of Mercedes driver Lewis Hamilton of Britain during the Formula One Grand Prix Nico Rosberg has accused Lewis Hamilton of causing their final-lap collision at the Austrian GP.
Rosberg was leading the race when the incident occurred as he strived to fend off his Mercedes team-mate.
The world championship leader limped to the line after the collision and has been placed under investigation by the Spielberg stewards for both allegedly causing the crash and then not stopping with a badly-damaged car.
But Rosberg has argued that Hamilton was guilty of causing the crash.
"I am absolutely gutted, it's unbelievable. I was sure to win the race and lost it on the last lap, that's pretty intense.
"We were battling. I was struggling a little bit with my brakes because they got a bit hot in the end and my tyres were degrading so that gave Lewis a chance.
"Nevertheless, I was confident I could defend accordingly and bring it home.
"I had the inside position, a strong position, and went a bit deep into the corner, but that's fine cause I dictate, but l was very surprised that Lewis turned in and that caused a collision."
In a furious assessment of the incident, which occurred just three races after Rosberg and Hamilton crashed out of the Spanish GP after clashing on the second corner, Mercedes Toto Wolff described the sight of the two Mercedes cars colliding as 'brainless'.
"Cars colliding seems a deja-vu. It's absolutely not what we want," a livid Wolff told Sky Sports F1.
"We are looking like a bunch of idiots and it's disrespectful to 1,500 people who work their nuts off to prepare the cars and this is why it needs to end.
"It seems that talking doesn't bring us any further so we need to think about all possible solutions and go as far as implementing the not very popular team orders.
"This is on the table now. This is what we are going to discuss, because maybe it's the only way we can manage the situation.
"I hate team orders, we owe it to the fans to let them race but if every race ends up in a collision between team-mates, it's not what we want."