Rousey prepares for UFC 207 return with Olympic boxer

SB Nation
24/10/2016
After nearly a year on the sidelines, former UFC women's bantamweight champion Ronda Rousey is slated to make her return. She is scheduled to take on current titleholder Amanda Nunes in the main event of UFC 207 at the end of the year.
An expert on the ground, Rousey's biggest flaw is her striking, as seen in the Holly Holm loss last year. And, likely because she's fighting another devastating striker in Nunes, she has brought in an elite training partner to help with her boxing: Olympic boxer Mikaela Mayer.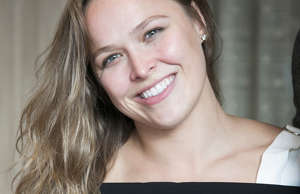 © Gabriel Olsen/WireImage Ronda Rousey arrives for the 20th Anniversary Erasing The Stigma Leadership Awards at The Beverly Hilton Hotel. Mayer represented the United States as part of Team USA at the 2016 Summer Olympic Games in Rio de Janeiro, Brazil in the women's 60-kilogram weight class. She was eliminated in the quarterfinals, one win shy of securing at least a bronze medal.
On Saturday, Mayer posted on Instagram a photo of her and Rousey following their first sparring session together.
UFC 207 takes place live from the T-Mobile Arena in Las Vegas on Dec. 30.