South Africa's brilliantly boring block-athon

The Roar
8/12/2015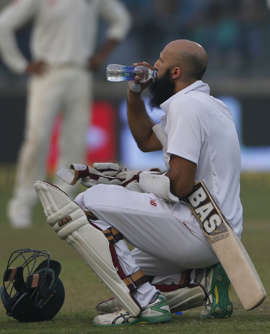 Boredom is a killer. I hate waiting in lines, long bus rides, sleepless nights and mundane conversations. Every so often, though, a boring experience can be enchanting and illuminating.
No sport does boring as well as Test cricket. It's partly why it struggles to capture new followers in the same manner as condensed, crazy Twenty20 cricket. It's also why many of us Test fans value it above any other format.
In the quietest moments of a Test match we can find comfort, relaxation and peace. A long, action-less session can have a gentle rhythm which numbs even the most robust of hangovers.
Or it can, despite the absence of any spectacular acts, cause your pulse to increase steadily to the stage where every dot ball brings you closer and closer to an outburst, either of joy or sorrow.
In what other sport can hour after hour of utter boredom erupt in the space of a single delivery, with a draw or a victory leaving previously reserved players and fans in a state of rapture?
No team knows how to tap into this low hum of cricket like South Africa. The Proteas have been, by a big margin, the best Test team of the past decade. Only on this current tour of India did they finally lose an away Test series, after nine years and 15 consecutive series without defeat.
The South Africans took over as Test cricket's heavyweights from Australia. But where the men in baggy greens built their golden era on dominating, scintillating, win-at-all-costs cricket, South Africa's bedrock has been their indomitable spirit.
That's not to suggest the great Australian teams of the 1990s and 2000s were not courageous and determined. Rather that South Africa have not had the same endless well of talent to tap and have often preferred to play within themselves.
The Australians had several of the greatest game-changers the world has ever seen in Shane Warne, Adam Gilchrist, Glenn McGrath, Ricky Ponting and Matthew Hayden – players capable of switching a Test into fast-forward mode.
As a result, the Australians built a belief that they could conjure a win from even the direst of situations. South Africa, meanwhile, have constructed a faith they can save a Test regardless of how deep and dark the path to a draw may be.
Their batsmen believe dot balls should be hoarded like tinder during a Siberian summer. Within their changeroom they have a cupboard where each player, before going out to bat, can shelve his ego.
Most modern Test batsmen seek to be conquerors, men of brazen and ballistic behaviour, and find it nigh on impossible to adapt to a siege situation. When they should be bunkered down, sheltering from incoming grenades, instead they are bolting from the trenches, all high backlift and minimal footwork and bold intentions.
Australian opener David Warner is arguably as valuable as any Test batsman on the planet thanks to the manner in which he swiftly seizes the initiative for his team and sets the fielding side back on their heels.
Yet until his innings of 163 against New Zealand at Brisbane last month, never had he built an innings of more than 174 deliveries.
Meanwhile, AB de Villiers and Hashim Amla combined soaked up 541 balls for the gain of 68 measly runs in the Delhi Test against India. They sought not glory, for South Africa already had been embarrassed in the series and could not possibly win this fourth Test.
What they were chasing was a victory of the spirit, a triumph for the downtrodden and written-off. Having suffered their most humbling series defeat of the past decade, the Proteas were set the gargantuan task of surviving more than 160 overs to save the Test.
Even 'success' in this situation still would leave them to fly home with a bitter-tasting 2-0 series loss. In such unappealing circumstances, most Test teams would lose direction, lose hope and lose miserably.
Yet the atrocious scenario seemed to anchor the South Africans, to draw from within them a grit and bloody-mindedness which had been notably absent across the series.
Amla and de Villiers smothered each spinning delivery as though it needed to be euthanised. In their minds, the only part of the scoreboard which ticked along was the over count.
They lulled some spectators and commentators half to sleep, and threatened to place pillows beneath the heads of each Indian opponent. Dead bat after dead bat after dead bat until even a gentle turn to the leg side looked, by comparison, an outrageous, kamikaze stroke.
For any Australian fans watching on TV or following the live scores online, it retrieved sour memories of Faf du Plessis's stonewalling, match-saving effort at Adelaide three years ago. On that occasion, South Africa conceded 482 runs from only 87 overs on the first day, yet managed to save the match – and the series – by batting for 148 overs in the fourth dig.
Du Plessis outdid the performances of even Amla and de Villiers in that Test by quelling 376 deliveries, shifting the momentum of the series in the process.
This time South Africa got nothing, on paper, out of their resilience. Except, that is, a boost to personal pride and the admiration of Test cricket fans across the world. It was boredom at its most beguiling and brilliant.