Sydney to Hobart: Perpetual LOYAL takes line honours in blue water classic, smashes race record

ABC News
27/12/2016
NSW supermaxi Perpetual LOYAL has stormed across the Sydney to Hobart finish to take out line honours, smashing the previous race record by nearly five hours.
Under the cloak of darkness, Perpetual LOYAL crossed the line off Hobart at 2:31am, breaking the race record by 4 hours, 51 minutes and 52 seconds.
"I don't think anyone expected us to do well in this race, the bookies certainly didn't," skipper Anthony Bell told waiting reporters.
He said his crew always thought they would do well in the race and the lead up to the event was a really important part.
© ABC News/Brant Cumming Supermaxi Perpetual Loyal is flying down Tasmania's east coast on day two of the 2016 Sydney to Hobart yacht race. "You shouldn't write us off too quickly and we came out of the blocks and we raced one hell of a race." he said.
But Bell said he would not be back next year to defend his title, saying he had "something new and hot" to do with sailing.
The supermaxi took just over 1 day, 13 hours and 31 minutes to snatch the record, set in 2012 by Wild Oats XI.
LOYAL made its way up the Derwent followed by a fleet of media and spectator boats, while crowds gathered at Constitution Dock to watch history unfold in the great race.
"It's amazing! It looks like we're going to have all three - first out of the heads, line honours and race records, so it's an amazing achievement," skipper Anthony Bell's wife Kelly said as the supermaxi sailed into Hobart.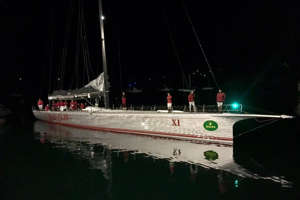 © ABC News/Jesse Dorsett Former race leader Wild Oats XI arrived in Eden two hours before Perpetual LOYAL cruised into Hobart. After failing to finish the race the previous two years — suffering rudder damage in 2015 and hitting an unidentified object in 2014 — Perpetual LOYAL took the lead when the race leader, Wild Oats XI, pulled out on Tuesday morning.
The next three yachts — New Zealand's Giacomo, Hong Kong supermaxi Scallywag, and Maserati from Sydney — are all expected to arrive within the next few hours.
Wild Oats VI, an eight-time winner, was a shock retirement from the blue water classic 20 hours into the race with a broken hydraulic ram, immobilising its keel.