Sydney to Hobart: Perpetual LOYAL takes line honours in blue water classic, smashes race record

ABC News
27/12/2016
NSW supermaxi Perpetual LOYAL has stormed across the Sydney to Hobart finish to take out line honours, smashing the previous race record by nearly five hours.
Perpetual LOYAL crossed the line off Hobart at 2:31am, breaking the race record by 4 hours, 51 minutes and 52 seconds.
The supermaxi took just over 1 day, 13 hours and 31 minutes to snatch the record, set in 2012 by Wild Oats XI.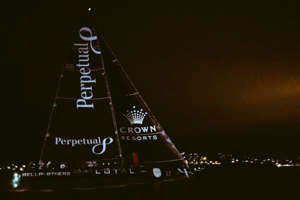 After failing to finish the race the previous two years — suffering rudder damage in 2015 and hitting an unidentified object in 2014 — Perpetual LOYAL took the lead when the race leader, Wild Oats XI, pulled out on Tuesday morning.
The eight-time winner was a shock retirement from the blue water classic 20 hours into the race with a broken hydraulic ram, immobilising its keel.
The next three yachts — New Zealand's Giacomo, Hong Kong supermaxi Scallywag, and Maserati from Sydney — are all expected to arrive within the next few hours.
More to come.
Follow the boats on their journey to the River Derwent here.