Trent Robinson lets slip Mitchell Pearce's weakness from Knights triumph
Sporting News
1/05/2016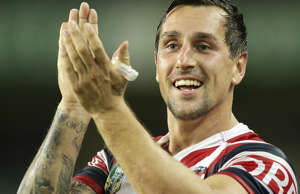 © Mark Metcalfe/Getty Images Mitchell Pearce of the Roosters celebrates a try from the bench during the round nine NRL match between the Sydney Roosters and the Newcastle Knights. It doesn't take an NRL genius to work out how much a player like Mitchell Pearce adds to a team like the Sydney Roosters, after the much-maligned halfback played a major hand in leading his side to a 38-0 romp over Newcastle on Saturday night. 

The Roosters, who had only registered one win from the season prior to Saturday's triumph, looked a completely different side with Pearce in the fold, and that fact wasn't lost on coach Trent Robinson in the aftermath. 
"I wasn't surprised how well he played," Robinson said.
"It's a real credit to him and what he's done, and we've been lucky to see…when he came back, how well he was talking, how clear he was with his training, and physical and the way he sees the game. 
"He's been really good for eight weeks now…since he's been back, and he's been ready (to play) for at least a month."
However, it wasn't all smooth sailing for Pearce in his comeback appearance, with Robinson letting slip his star play maker battled his way through the latter part of the match. 
"Physically it got him, where Pearcey never gets tired in a game whereas it actually got him (on Saturday night). That's the thing that got him," Robinson said. 
"His decision-making was really, really good. So the clarity was there it was just fatigue got him which is not usually the case. 
"Key players are so important to your team, and to every team. Mitchell Pearce allows Jackson (Hastings) the freedom on the goal-kicking as well. 
"And it's not just Mitchell, but having Jared in the sheds or Boyd coming back, they do make differences."