Warriors announce major shake-up, appointing two World Cup-winning coaches

The Roar
12/09/2016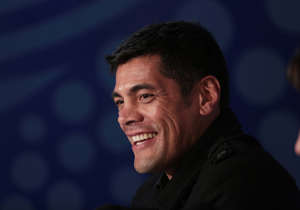 The New Zealand Warriors have announced not one, but two World Cup-winning coaches are to join the club, with Stephen Kearney appointed head coach on a three-year deal, while Sir Graham Henry is also coming on board.
Andrew McFadden, who still had a year to run on his contract, has been retained, having been demoted to one of Kearney's assistants.
The Warriors have also promoted club legend Stacey Jones to play a role in "specific specialised areas", while McFadden's assistants Andrew Webster and Justin Morgan are "finishing up".
There are more changes afoot as well, with the club saying there's "another experienced international coach set to be signed to join the coaching team".
Meanwhile, Warriors' owner Eric Watson also announced former All Blacks Rugby World Cup-winning coach Sir Graham Henry would be joining the club as part of a newly formed football advisory board.
READ MORE:
Stephen Kearney: A life in league
Warriors coaches and their records
Set to oversee the club's football operations, Henry will be joined on the board by experienced NFL coach Eric Mangini, former player Awen Guttenbeil, director Owen Eastwood, board director Les Archer, and CEO Jim Doyle.
"As well has having directors on the advisory board, we're especially thrilled to have the services of Sir Graham, Eric, Awen and Owen. They provide exceptional knowledge and experience from the professional sporting world as we strive to improve our standards throughout the club," Watson said.
"The formation of the advisory board together with Stephen's appointment and the other coaching roles are all part of a comprehensive overhaul of how we do business."
Kearney was a foundation player at the club, featuring in 79 games from 1995-98 for the then Auckland Warriors.
Stephen Kearney appointed new head coach + other changes.

READ 👉 https://t.co/ARrx3AFLvY#WarriorNation #NRL pic.twitter.com/QSbJOck1vd

— Vodafone Warriors (@NZWarriors) September 12, 2016
"We're delighted we've been able to bring Stephen back to Mount Smart Stadium," said Doyle.
"He was outstanding during his playing career with the club and then with the Melbourne Storm before moving into coaching.
"Stephen has taken the Kiwis to a new level with their successes in the Rugby League World Cup in 2008 and twice in the Four Nations in 2010 and 2014.
"During his coaching career he has also worked alongside two of the best coaches the game has seen in Craig Bellamy at the Storm and Wayne Bennett at the Broncos.
"Our review identified changes needed to be made and, in Stephen, we have a coach who has a reputation for demanding the highest standards."
Kearney has had a mixed career as a head coach. After cutting his teeth under Craig Bellamy at the Storm, he was appointed coach at Parramatta, a role he held for less than two seasons before quitting with a record of just ten wins from 42 games.
Far more successful has been his time in charge of the Kiwis, leading the New Zealand national side to the 2008 World Cup, as well as Four Nations glory.
His current position is as an assistant to Wayne Bennett at the Broncos, a role he will see through until the end of this season – whenever that may be for Brisbane.
"I'm really excited about coming on board at the Vodafone Warriors," Kearney said.
"The club means a lot to me from my time there as a player and this a great opportunity to take the football department in a new direction.
"I've been speaking to 'Cappy' [McFadden] about his role and I'm thrilled he's staying on. He has so much to offer with his knowledge about the club and I'm really looking forward to working with him.
"It'll also be great to have Stacey involved to a greater degree with the NRL squad so we can really maximise the expertise he provides."
----
Article originally published on theroar.com.au