Warriors keep season alive, force Game 7

USA TODAY
29/05/2016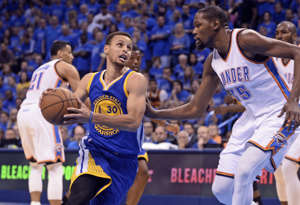 Stephen Curry and his Golden State Warriors are going home – to Game 7 at Oracle Arena on Monday night.

After a Game 5 win in which the back-to-back MVP screamed "We ain't going home," in those final moments, the defending champions pulled out a 108-101 win over the Oklahoma City Thunder in Game 6 at Chesapeake Arena on Saturday night that left the sellout crowd of 18,203 stunned and, one can expect, scared.
Despite the daunting history at hand, the reality that just nine teams in NBA history have come back from a 3-1 series deficit to survive in the series, the Warriors are on the brink of just that. With the Thunder ahead 97-92 and 4:48 remaining, the comeback that has the Warriors headed back to the building where they won 39 of 41 games in the regular season began.
With Warriors coach Steve Kerr having opted to play reserve Andre Iguodala with the team's starters to guard Thunder star Kevin Durant, the Thunder offense stalled while Stephen Curry came alive. His three-pointer at the 3:58 mark cut the Thunder lead to one, and another at the 2:47 mark tied it 99-99. Iguodala drove the lane on Andre Roberson for a tough layup and a 101-101 tie at the two-minute mark.
Oh. My. Goodness! Steven Adams! 👀 https://t.co/l1qPG1exII

— NBA on TNT (@NBAonTNT) May 29, 2016
The crowd could barely breath, and the Warriors just kept coming. After Iguodala stripped Russell Westbrook, Klay Thompson buried a three from the right wing for a 104-101 lead with 1:35 to go. Then after Thompson contested a short Durant three-point attempt from the right wing, Curry buried a running finger-roll from the right side past forward Serge Ibaka to all but end it. hompson did everything he could to get the Warriors to a Game 7, hitting 11 three-pointers to set a single-game postseason record. He finished with 41 points (14 of 30 shooting), while Curry had had 29 points, 10 rebounds, and nine assists. The Thunder, as always, were led by Westbrook (28 points, 11 assists and nine rebounds) and Durant (29 points seven rebounds, three assists). But they shot just 42.2%.
Another view of Steven Adams' one-handed stuff:https://t.co/9xeCynSk7I

— SLAM Magazine (@SLAMonline) May 29, 2016
Thompson hit threes over Anthony Morrow, cutting the lead to five points early in the fourth quarter. He fired away over Durant's outstretched arm in the right corner moments later, making it 85-81. After two offensive rebounds, he did it again from deep on the left wing to make it 89-84.
His driving layup kept the deficit at five with 5:30 left, Durant answering with a fadeaway jumper from the left side over Andre Iguodala. Thompson broke the playoff record at the 4:57 mark in the fourth, launching from up top to make it 96-92.
The Thunder led 53-48 at halftime, but it was one of those ominous times when everyone in the building felt as if they should have been up by much more. The Warriors had hit just 16 of 44 shots (36.4%) and given up 10 turnovers, but their three-point game (nine in all, four from Thompson, two from Curry) and a rebounding edge (26-25) kept them close. Still, the Thunder – with Durant scoring 16 points while Ibaka and Westbrook combined for 23 – had dominated for most of the first two quarters.
Much of it was because of Durant's defense, with a bit of irony attached. While he had been asked in the Game 5 postgame press conference whether Curry was an underrated defender, a strong argument can be made that it's Durant who better fits that description. His impact on Curry, specifically, was a sight to see yet again.
With the Thunder trailing 10-9 early on, Curry found himself alone in the lane with Durant and, in essence, traveled because he didn't know where to go with the ball. Midway through the second quarter, Curry challenged Durant on a drive and was swallowed whole. What came next, to be sure, is a play that will be viral for years to come.
Thunder big man Steven Adams, who had been kicked in the groin by Green in both Game 2 and Game 3, got his revenge with a thunderous right handed dunk over Green that put the Thunder up 37-28. Green, who has finished second in Defensive Player of the Year voting for two seasons running now, leapt to his peak, collided with Adams in the air but just couldn't get high enough to avoid being part of Adams' poster. A crowd that is as raucous as they come grew louder still.