Williamson bats for long-form cricket

Wisden India
3/09/2017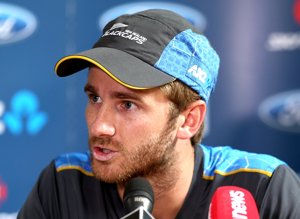 © Martin Hunter/Getty Images According to Williamson and what he gleaned from his time in county cricket with Gloucestershire and Yorkshire, the answer is a more robust domestic first-class tournament. New Zealand Cricket (NZC) might have floated the idea of a reduced Plunket Shield, the country's domestic first-class tournament. But Kane Williamson, the national captain, was definitely not in favour of it, suggesting that Test cricket shouldn't be devalued by the board.
New Zealand's domestic structure for the 2018-19 season could see some changes -- the 2017-18 season will proceed as is -- such as pruning 10 rounds of the Plunket Shield to five.
"If we've got in a four-year period of two World T20s and a 50-over World Cup and two Test-match competitions, what is the right mix of cricket domestically to ensure we're competitive at international level?" asked David White, the NZC chief executive, said last month.
According to Williamson and what he gleaned from his time in county cricket with Gloucestershire and Yorkshire, the answer is a more robust domestic first-class tournament.
"The Plunket Shield format [of 10 rounds] is very important," Williamson told New Zealand Herald on Saturday (September 2). "Having experienced the county championship in England, which has 16 four-dayers a season, I see so much value in that competition for the development of cricketers.
"The more cricket you're exposed to, and particularly in the longer format, the more you get an understanding of your game. Players then adapt as the game gets shorter.
"In England you see young guys, maybe 26 years of age, who might've played 100 first-class games. They have marked 'centre' that many times and have so many failures and successes that it helps them learn and mature quicker."
New Zealand have played five Tests in 2017, the last of which was a rained-out draw against South Africa in Hamilton in March. Their next Test assignment is a two-match series against Windies in December at home, followed by another two-match series against England in late February, also at home. After that, they don't have any Tests pencilled till a series against Pakistan in UAE in October.
That essentially means in an 18-month period from April 2017 to September 2018, New Zealand are playing only four Tests. To put that into context, in the same time period — excluding the Champions Trophy — New Zealand are playing 21 One-Day Internationals and nine Twenty20 Internationals.
Williamson, who is the No. 2 batsman in the International Cricket Council Test rankings despite playing Tests few and far in between compared to his peers, felt the longer format needed to be nurtured.
"I know I'll be part of a few discussions in the next week, but I'm a big advocate of the Test game, so I'm open to new ways to keep it attractive and at the forefront of international cricket," he said. "Many of those I talk to still believe it is the pinnacle of the sport because it challenges you in so many ways; and that mindset underlines the importance of the domestic first-class game.
New Zealand played the inaugural pink-ball Test in Adelaide against Australia in 2015, and are scheduled to stage their inaugural pink-ball Test at home at Eden Park in Auckland when England visit. Williamson agreed that the concept was good, but also reminded that Tests, even those that weren't day-night affairs, were appreciated by the public.
"Introducing pink ball day-night Tests might end up as a good initiative, but we had some fantastic Test matches in our most recent summer -- and for two to three summers before that -- and got some reasonable crowds as well.
"I know Test cricket is under pressure in places, but it's thriving in some countries. This season, there are only four Tests [in New Zealand]. Players would probably like to see more long term."