Roger Federer mortal after all and left to regret one that got away

The Guardian
11/07/2018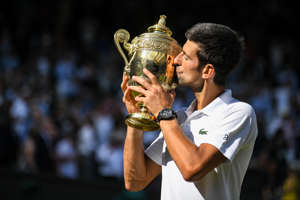 Slideshow: Best of Wimbledon 2018 (GES)
No one saw that coming. Not Roger Federer, certainly not the 11,393 fans who had tickets for No 1 Court and probably not even Kevin Anderson, who played the match of his life. It was a match Federer could, probably should, have won and yet, he will now leave here wondering – probably like everyone else – how many more chances he will get to add to his eight Wimbledon titles.
This was no gimme, of course. Even if Federer had managed to get past Anderson, as he almost did, having held match point in the third set, there was no guarantee that he would have gone on to win the title, especially with a rejuvenated Novak Djokovic in the other half of the draw, not to mention Rafael Nadal and Juan Martín del Potro.
Having won three grand slams in the past 18 months, it would be unwise to ever write off his chances of adding to his overall tally of 20 grand slam titles, but it is not going to get any easier, certainly at Wimbledon. By this time next year, he will be closing in on his 38th birthday. Federer may well be the greatest of all time but even he will find it tough to win at that age.
Having blitzed through his first four matches with barely a bead of sweat despite the unusually hot weather of this year's Wimbledon, most people expected Federer to cruise past Anderson, not least since he had won all four of their previous meetings, all in straight sets. But the last of those was three years ago and Anderson is a different animal these days. Where once he would have buckled on the big stage against someone like Federer, now he relishes the task. Reaching his first grand slam final at the US Open last year gave him great confidence and it was noticeable even early on that he was able to push Federer back, a rare sight, especially on grass.
This was not vintage Federer, even in the first set, which he won handily. In his first four matches, the Swiss had been utterly dominant on serve, winning 92 % of points on first serve, his best ever serving stats in his 20 years at Wimbledon. Against Anderson, though he hit 16 aces, it was down to 79 %. Some of that was down to the South African, who continued to attack at every opportunity.
The great players find a way to win even when they are not playing their best, but for once, Federer couldn't do it. "I wasn't feeling particularly well off the baseline," he said. "I couldn't really get the rallies going the way I wanted to, especially the 1-2 punch wasn't working at all today. I don't know if it had something to do with the breeze, just a bad day from my side, except the first set. After that, I never really felt exactly 100 %. That has nothing to do with my opponent. It was just one of those days where you hope to get by somehow. I almost could have. I should have."
Every defeat hurts, especially when you've been as successful as Federer, a man who has mopped up 98 titles in his career. His disappointment afterwards was obvious. "I don't know how long it's going to take me [to get over it]" he said. "Might take me a while, might take me half an hour. I have no idea what it's going to be. Of course, the goal is to come back here next year. I wouldn't call it unfinished business. I felt like I did some good business here in the past already. So I'm alright. Just disappointed now."
He is the world No 2 and holds the Australian Open title, so it's not like he is not playing great tennis. He will have his chances again. But this is one that got away.