Winter Olympics: David Morris' dream of Pyeongchang gold ends after 'ludicrous' judging score

ABC News
18/02/2018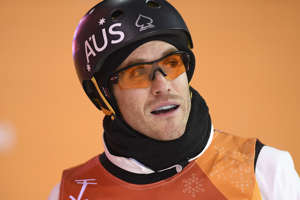 David Morris' Olympic Winter Games campaign is over after the Australian was eliminated from the men's aerials final in Pyeongchang, although questions have been raised as to whether he was robbed by the judges.
Morris, a silver medallist in Sochi four years ago, departed the competition at Phoenix Snow Park after the first round of jumps when he finished 10th out of 12 jumpers with a score of 111.95, having needed to finish inside the top nine to progress.
But doubt surrounds whether eventual silver medallist Jia Zongyang of China, who qualified for the second round of jumps in ninth position, deserved his score of 118.55 after he lost control following his landing and crashed into the snow.
Morris had kept his feet after he landed but was given the same score as Jia of 6.8 for the landing.
The 33-year-old Morris admitted to being "confused" about the judges' scores but he ruled out taking the matter further.
"My coach went and asked the judges," he told Channel Seven.
"They gave him [Jia] four metres of controlled skiing, which is what counts for a landing. You can watch replays and slow mo [slow motion replay] and argue as much as you want.
"They gave him a four-metre stance where he had control. I can't argue it. Tough luck for me."
Morris' Australian teammate Lydia Lassila, commentating for Channel Seven, said Jia "wasn't in control" of his landing and should have been marked down accordingly.
"He's fallen over," Lassila said.
Lassila was scathing of the judges, saying: "They've got to seriously review what they have decided upon tonight."
Morris, however, was at peace with the decision of the judges.
"It can't be undone now. It is what it is," Morris said.
"I've accepted it. It's fine. I'm pretty happy with myself just to be here and in one piece."
Morris was still in contention when the final jumper of the first round, world champion Jonathon Lillis, took to the snow.
Lillis, however, scored a 121.68, pushing Morris down to 10th place and out of the final.
Jia claimed the silver medal with a score of 128.05, having been pipped for the gold by Ukraine's Oleksandr Abramenko, who scored 128.51. Ilia Burov (103.17), representing the Olympic Athletes from Russia, won bronze.
Morris spoke before the Games about the emotional struggle he was going through with his mother Margaret fighting lung cancer.
He had considered returning home to Australia, but was persuaded by his mother to stay in Pyeongchang and compete.
"Had a little cry up the top there," Morris said.
"Didn't allow myself to get emotional. Finally let it out and start to deal with real life."
Morris, a three-time Olympian, said he would "take some time off" following the Pyeongchang Games before making a decision on whether he would continue his career.
David Morris is the epitome of a humble, respectful and amazing human. A straight up Aussie legend and everyone back home absolutely loves you 💝🇦🇺 @Aerialskier #Pyeongchang2018 #GoAus @AUSOlympicTeam

— Emily Bamford (@embamford) February 18, 2018
This aerial ski jumping thing is rigged. @Aerialskier nailed it tonight but was out first in the finals, meanwhile old mate turned into a snowball when he landed and got through! Give them all a gold medal I say. #DoubleFlipTripleTwist

— The Armchair Major (@CAJohnsonAus) February 18, 2018
What a legend @Aerialskier #davidmorris #PyeongChang2018

— Judith L (@joodoff) February 18, 2018
What an awesome attitude displayed by @Aerialskier - much respect. All the best with whatever comes next

— Rohan I (@the_impey) February 18, 2018
Well done to @Aerialskier on a stellar career. You've done Australia proud 👍 apparently tonight we needed to land on our head to get through #WeMustHaveMissedThatMemo

— Katrina (@Katrina_002) February 18, 2018