Travel tips: Ten things you need to know about travel in 2018

Traveller
13/01/2018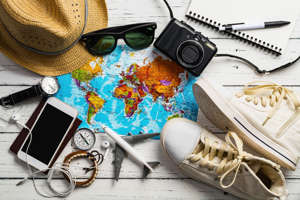 © ShutterStock Accessories a traveler must have in his bag. Travelling in 2018? Here are 10 things you need to know before you embark on your overseas journey.
SMART SUITCASE BAN
Rethink that GPS-trackable suitcase – Qantas and Virgin Australia are just two airlines that, as of January 15, have banned smart suitcases from both the cargo hold and cabin unless their lithium-ion batteries can be removed. At least three US airlines have done the same with more likely to follow.
THE OVERTOURISM BACKLASH
Some Europeans have had enough of tourists. In Croatia, there have been police crackdowns on lager louts. Milan has banned selfie-sticks. In Barcelona and Venice there have been anti-tourism marches. In Iceland and other places, tourism taxes are on the increase. Be informed before you travel – and well-behaved as you travel.

WORLD CUP OF FOOTBALL 2018
At this year's World Cup in Russia, security will be the tightest ever. Hooligans won't be tolerated, especially in the wake of clashes between English and Russian fans at Euro 2016. Even chanting in the street may attract strong police action. Advice is to steer clear of any such situations.
DOLLAR DEVALUATION
The Australian dollar is predicted to dip to 74 US cents by mid-year and to 70 by the end of 2018. It's also predicted to fall against both the euro and stirling. It's a trend that may continue until at least the middle of 2019.
NEW BARRIER REEF SAFETY MEASURES
As a result of a spate of deaths in 2016, tourism operators will now be allowed to request declarations from people identified as at-risk before they enter the water on the Great Barrier Reef. If at risk, they'll be required to wear flotation devices and specifically coloured vest or snorkel so they can be easily spotted.

POLITICAL VOLATILITY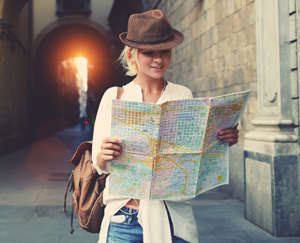 © ShutterStock Be informed before you travel – and well-behaved as you travel. Tourism hotspots Cuba, Hong Kong and Kerala in India are among the destinations with simmering political problems. Pro-democracy protests continue in Hong Kong. In Kerala, there has been recent political violence with Cyclone Ockhi exacerbating unrest. And US President Donald Trump has reversed his predecessor's reopening of ties with Cuba. Watch this space.
ETHICAL ISSUES
Government-sanctioned military operations in Burma, which have forced 600,000 Rohingya people to flee the country, pose not just a safety issue for tourists, but an ethical one as well. The decline of political rights and the arrest of the opposition leader – among other human rights concerns – has put Cambodia firmly in the problem-destination category, too.
THE ROYAL WEDDING
Expect a huge police presence on and around May 19, the date chosen for the wedding of Prince Harry and Meghan Markle. Though the ceremony is in Berkshire, at Windsor Castle, there is likely to be celebration in the capital. The date is also that of the FA Cup, held at Wembley Stadium, adding further crowds and security risks.

US AIRPORT SECURITY
Come January 22, all Americans travelling by air in the US will require a "Real ID-compliant" licence or similarly compliant document. While that isn't likely to directly affect Australian travellers, it could cause check-in delays and confusion. There are already warnings out to get to airports earlier in implementation phase.
LEGALISED MARIJUANA
As of January 1, recreational marijuana use by adults is legal in California. But there are still rules for consumers, including laws about having cannabis in cars. Smoking, eating or otherwise using marijuana in public is still illegal under Proposition 64.
Pictures: Winter wonderlands: snow holidays for non-skiers