More turbulence for United, this time with an engaged couple

San Francisco Chronicle
17/04/2017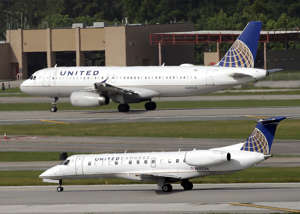 © AP In this July 8, 2015, file photo, United Airlines and United Express planes prepare to takeoff at George Bush Intercontinental Airport in Houston. It's been a turbulent week for United Airlines. It didn't get any better over the weekend.
United, trying to recover from video of a man being pulled off a plane, took it on the chin again Sunday when a Utah couple told their story of being removed from a flight in Houston.
Michael Hohl and Amber Maxwell were traveling to Costa Rica for their wedding on Sunday.
The couple, and a group of friends, were flying from Salt Lake City with a layover at George Bush Intercontinental Airport.
© Hearst Newspapers Hohl and Maxwell boarded the plane last and found a man spread across their row of seats, napping. Hohl said they didn't want to wake the man, so the couple moved three rows up in the half-empty flight and didn't think about it.
Hohl told KHOU-TV in Houston when they sat down, the crew informed them they were in the wrong seats and moved them to the correct seats.
In a statement, United Airlines said Hohl and Maxwell "repeatedly attempted to sit in upgraded seating" and wouldn't follow the crew's instructions about where their purchased seats were.
"We're disappointed anytime a customer has an experience that doesn't measure up to their expectations," airline spokeswoman Maggie Schmerin said in a written statement.
Then, Hohl said, things got weird. Shortly before Flight 1737 was scheduled to take off, the crew asked the pair to get off the plane. 
Flashbacks to the video of Dr. David Dao being dragged off a Chicago-to-Louisville flight a week earlier came to mind. Then, a U.S. Marshal came onto the plane and asked them to get off.
Dao sustained injuries and plans to file a lawsuit against the airline. After the incident, United put in place a new rule stipulating that crew members will no longer be allowed to displace passengers already on board the plane.
The couple cooperated and left without incident. They rebooked for Sunday, but said this was their last flight on United Airlines.