14 alternative bucket list destinations that won't be swamped with tourists

Evening Standard
1/07/2018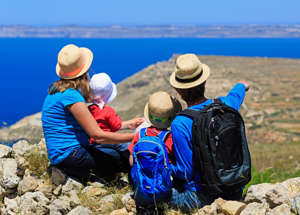 © Provided by Shutterstock How long is your bucket list?
Ever since Instagram and travel influencers became a thing, our bucket lists have grown exponentially long. But, it seems, so have everyone else's. Traditional 'bucket list' locales are often overcrowded and hard to actually enjoy. Watching the sunrise over the Sun Gate at Machu Picchu with hundreds of selfie stick wielding tourists is not the life-affirming experience you signed up for.
Yet, there are a number of just-as-beautiful-but-relatively-untouched locations that are just waiting to be visited.
Below find alternative bucket list destinations you should consider for your next trip.
Instead of going to Machu Picchu…

Visit Peru's rainbow mountains
© Provided by Evening Standard Limited (Shutterstock) Vinicunca Mountain is part of the Peruvian Andes and is one of the world's most incredible geological features. The mountain is naturally striped with a range of colours including deep maroon, gold and even lavender and blue hues – hence the nickname 'rainbow mountains'.
Instead of going to the Maldives…
Visit the Gili Islands, Indonesia
The Gili Islands are made of three islands off the coast of Bali, Indonesia. Surrounded by turquoise waters, fringed by white sand and with a must-visit turtle sanctuary, these islands are the perfect tropical getaway.
Instead of seeing the northern lights in Finland…
Visit a bioluminescent beach in Koh Rong, Cambodia
The seas surrounding the Cambodian island of Koh Rong are filled with glowing plankton come nightfall, leaving a trailing of twinkling lights with each wave.
Instead of Angkor Wat…
Visit Bagan, Myanmar
Angkor Wat is Cambodia's most iconic temple – but it is often flooded by tourists. Instead, take a trip to Myanmar and visit the ancient city of Bagan. Bagan is home to more than 2,000 temples that tower over the green plains.
Instead of Petra in Jordan...
Visit Al Ula in Saudi Arabia
While you may be faced with queues at Jordan's ancient city of Petra, the ancient city of Al Ula in Saudi Arabia is over 2,000 years old, made of mud-brick and stone houses and has only just opened its borders to tourists. This little-known alternative is a great way to see how ancient civilisations lived.
Instead of the Egyptian pyramids...
Visit Meroe in Sudan
On the banks of the Nile River, located in a desert in eastern Sudan, you will find nearly 200 ancient pyramids. These pyramids were built between 2,700 and 2,300 years ago – around a similar time to the Egyptian pyramids. While Egypt gets around 4.3 million visitors per year, Meroe only gets around 15,000 per year.
Instead of a 'big five' safari…
Go on a Gorilla safari in Uganda
© Provided by Evening Standard Limited (Getty Images) Forgo the tourists and go on an ethical adventure instead. With Aardvark Safari's, you can see mountain gorillas in their natural habitat.
Their seven-day gorilla safari will take you to two national parks and include accommodation, flights and national park fees and gorilla tracking permits.

From £3,864 per person; aardvarksafaris.co.uk
Instead of bathing in Iceland's Blue Lagoon…
Bathe at the Hot Water Beach in New Zealand
© Provided by Evening Standard Limited (Shutterstock) Located in New Zealand's Coromandel region, the Hot Water Beach is filled with thermal water beneath the sand where, if you dig a little at low tide, you can create your own natural hot tub.
Instead of island hopping in Greece…
Island hop in Croatia
On the other side of the Adriatic Sea from Italy, Croatia has a number of luxe islands to visit along its coastline. The old towns you'll find along the way and the lush green forests and sparking water that make Croatia a perfect place to spend your summer holiday.
Instead of swimming with the pigs in the Exumas…
Swim with humpback whales in Tonga
One of the largest creatures in the world (they can grow up to 16 metres long), the humpback whale is sure to take your breath away. There are only a few places on the planet where you can swim with them in the wild and Tonga, in the South Pacific, is one of them.
Instead of taking in the sights of the Grand Canyon...
Check out the Antelope Canyon in Arizona, USA
You've probably seen images of the Grand Canyon on your Instagram feed, but the Antelope Canyon is a slot canyon that is even more 'gram-friendly. Wind and water have carved the sandstone into a quarter of a mile's worth of photography heaven. 
Instead of visiting the Taj Mahal in India…
Visit the Sheikh Zayed Mosque in Abu Dhabi, UAE
The Sheikh Zayed Mosque in Abu Dhabi is the largest in the United Arab Emirates and features over 82 domes and 1,000 columns. Unlike the Taj Mahal which can often be covered by smog, the Sheikh Zayed Mosque is always pristine. 
Instead of visiting Canada's Banff National Park…
Visit the Plitvice Lakes National Park in Croatia
The Plitvice Lakes are one of Croatia's shining gems, filled with sixteen lakes all interlocked by a series of waterfalls. While the summer months can be busy, autumn and spring are perfect for foliage and flowers.
Instead of flying in a hot air balloon in Turkey's Cappadocia region...
Hot air balloon over the Serengeti National Park in Tanzania