How to experience the 'new' Honolulu

Evening Standard
9/07/2018
It's in Chinatown, behind plain white walls, royal blue window frames and frosted glass doors, that you'll find the real Honolulu. The one that wasn't dreamed up solely to please tourists' tastes; the one that isn't a compound of clichés. The one where you'll find Hawaii on a plate.
In between sips of my Kaji cocktail, a "hard" plantation tea with cardamom-infused vodka and fresh pineapple juice topped with sugarcane, I sample a poké cracker — sweet morsels of raw tuna tossed in house-made ponzu sauce and adorned with local microgreens and tiny turrets of avocado mousse, all planted atop a shrimp and squid-ink rice cracker. It's followed by the tako — seared, pillow-soft octopus glazed with sticky, spicy sesame. It's the best tentacle I've ever tasted.
Hawaii might conjure up images of hula girls, luaus and tiki bars but downtown Honolulu has long since cut loose from these stereotypes, quietly turning into a cosmopolitan capital that's home to edgy street art and experimental eateries. And Senia — open since late 2016 — is just one example of this new breed.
A few blocks away, Pai is one of the new progressive restaurants to grace the city's streets. The work of Chinese-American chef Kevin Lee, it pulls flavours and techniques from cultures as distinct as India, China, France and Japan. Lee's signature dish is a turnip cake — a traditional dim sum dish — cooked in the Japanese agedashi style (deep-fried and cubed) and garnished with smoked fish and a broth flavoured with the local ti leaf.
It might seem an eccentric mix but in the capital of one of the most ethnically diverse states in the US, fusion is the norm. "Honolulu is a hotpot of different cultures," says Lee, citing the influences of its Chinese, Japanese, Filipino and Portuguese residents. "When I moved to Hawaii almost eight years ago there was a small, growing food scene," he notes, adding that it wasn't until thepast two to three years that the scene began to explode.

One of Honolulu's biggest game-changers has been the shift from postcard-perfect Waikiki to the more urban environs of downtown Honolulu and Chinatown.
"The [area's] reputation has one-eightied from a grungy, seedy place to a place for all ages," says Andrew Le, chef and owner of The Pig And The Lady, next to Senia. The modern Vietnamese eatery has developed a cult-like following because of its pho French dip sandwiches — a cross between the American diner staple and the classic banh mi, cram-full of Thai basil chimichurri, bean sprouts and 12-hour-roasted brisket, and served with a side of pho strewn with clams, for dunking. 
The lack of real estate in Waikiki, and the promise of low rent, encouraged Le to invest in the space. The gamble has paid dividends. "People saw our success and got encouraged to open up also."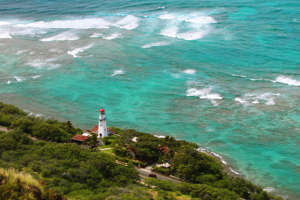 Le's newest venture, Piggy Smalls, is based in another up-and-coming neighbourhood: Kaka'ako. The setting for POW! WOW!, an annual street art festival, the area has changed drastically in the past seven years, says Kamea Hadar, the event's co-lead director. "When we first started, Kaka'ako was a no man's land. But about a year later the first coffee shop opened."
Established in Honolulu in 2011, POW! WOW!'s brand of vibrant wall art has since been exported to nine other cities around the globe. Now the trend for experimental eats and arts is even spilling back into Waikiki. No longer the preserve of chain hotels and fast food joints, boutique properties and smart eateries are popping up.
At newcomer the Alohilani, filtered prints of Hawaiian surf culture line the walls, organic toiletries fill bathrooms and yoga takes place on the rooftop pool deck. But arguably the hotel's most compelling attribute is its two new restaurants, spearheaded by Japanese Iron chef Masaharu Morimoto.
Word about Honolulu is starting to get out, says Senia's co-founder Chris Kajioka. "Honolulu is having its moment. It's one of the most exciting food scenes in the US."