24 reasons we love Taylor Swift

Photos
18/05/2015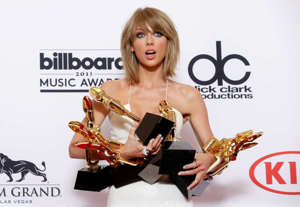 © Eric Jamison/Invision/AP Eric Jamison/Invision/AP

Taylor Swift stole the show at the 2015 Billboard Music Awards at MGM Grand Garden Arena on May 17 at Las Vegas in Nevada, United States. While she led the race with 14 nominations, she went on to win eight awards, including in the categories of Top Female Artist and Chart Achievement. One of the most celebrated pop stars in the world currently, Swift's rise to the top has been phenomenal. Here's a look at some of her highlights over the years and why we lover her so much.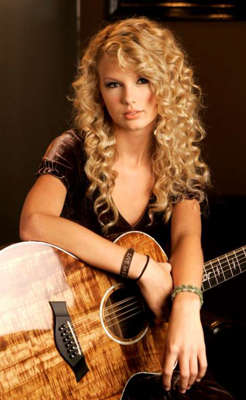 1. A debut hit single (June, 2006)
"Tim McGraw", Taylor Swift's first single from her then untitled album, was released four months ahead of her debut full-length on Big Machine Records. The song was Swift's first appearance on the Billboard Hot 100 and Country Songs chart, reaching as high as number six on the list.
2. Self-Titled Debut Album (October, 2006)
Big Machine Records released the 16-year-old's self-titled debut album Taylor Swift which eventually sold more than 2.5 million copies.
3. Horizon Award at Country Music Association Awards (November, 2007)
Then 17, Swift performed her latest hit, "Our Song", before winning the coveted Horizon Award. "I can't even believe that this is real," she said during her acceptance speech. "I want to thank God and my family for moving to Nashville so I could do this. The fans – you have changed my life. This is definitely the highlight of my senior year!"
4. First Grammy Nomination (December, 2007)
Called upon to help announce the Grammy nominations, Swift was left speechless when she heard her own name in the category of the Best New Artist.
5. Tops Country Music Television Awards (April, 2008)
At the fan-driven Country Music Television Awards, Swift won two major prizes, including Video of the Year. "Are you sure? Are you serious?" Swift said in disbelief after she accepted her first award for Female Video of the Year.
6. Academy of Country Music Awards (May, 2008)
Swift won the award for Top New Female Vocalist at the 2008 Academy of Country Music Awards. She also gave a dripping wet performance of "Should've Said No", during which water poured on her from the ceiling.
7. Fearless (November, 2008)
Fearless topped the Billboard charts with 592,000 copies sold in its first week. Rolling Stone called Swift "a songwriting savant with an intuitive gift for verse-chorus-bridge architecture." "Fearless" resided at the top for more than six straight weeks and earned Swift Album of the Year at the Academy of Country Music awards.
8. MTV Video Music Awards (September, 2009)
While accepting the MTV VMA for best female video, Swift was interrupted by Kanye West, who came onstage and took issue with her win. "Beyoncé had one of the best videos of all time," he said. He eventually called Swift to apologize.
9. Ruling the Country Music Awards (November, 2009)
It was a monumental night for Swift at the Country Music Awards, where she took home four awards, including album of the year for "Fearless" and Entertainer of the Year.
10. Grammies galore (January, 2010)
Eight-time Grammy nominee Swift took home four awards, including the coveted album of the year. She also won Grammies for the best country song, best female country vocal performance and best country.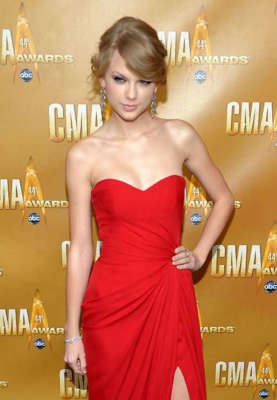 11. Country Music Awards (November, 2010)
Swift walked away with her second entertainer of the year CMA Award, thanking Usher, Tim McGraw and Justin Bieber for collaborating with her over the past year.
12. More Grammies in her kitty (February, 2012)
Swift won her fifth and sixth Grammys in 2012. She took home statues for Best Country Song and Best Country Solo Performance, but lost out on the Best Country Album honor for "Speak Now".
13. Academy of Country Music Awards (March, 2012)
Swift became only the second female artist after Carrie Underwood to win back-to-back Academy of Country Music (ACM) Awards for Entertainer of the Year.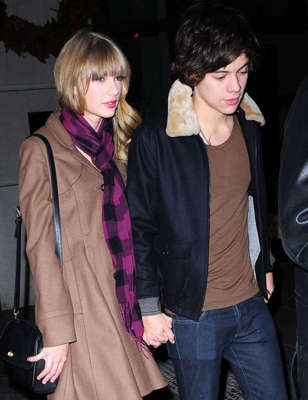 14. Her love life: dating Harry Styles from One Direction (June, 2012)
Taylor's love life has been the topic of many headlines. She is often said to have written songs about her ex-boyfriends, notably her hit, "I Knew You Were Trouble", which reports said were based on her ex, singer John Mayer. She dated One Direction's Harry Styles for a while, but the relationship didn't last very long.
15. Red (October, 2012)
The country singer's fourth effort topped the Billboard 200 album chart after selling 1.2 million copies in its first week, becoming the fastest-selling album in a decade and scoring the second-largest sales total for a female artist behind Britney Spears's 2000 album, "Oops! ... I Did It Again".
16. Recognition at the Country Music Awards (November, 2013)
After performing an acoustic version of "Red", Swift was awarded the Pinnacle Award for her "positive impact in the Academy of Country Music worldwide" at the CMAs. "I love you, you've made me feel so special right now. Thank you," she said in her acceptance speech.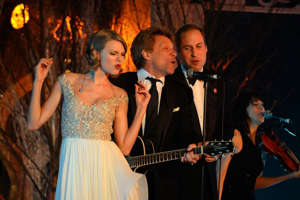 17. A Royal Performance (November, 2013)
Swift not only got the honour of meeting Prince William, she gets to perform for him at an event to benefit his charity, Centrepoint.
18. Wax figure at Madame Tussauds (October, 2014)
It's not the first time Swift was immortalised in wax after a statue of the star was unveiled in Madame Tussauds New York.
19. New York's Global Welcome Ambassador (October, 2014)
Named the city's first Global Welcome Ambassador for its "Welcome To New York" campaign, Swift has a song of the same name.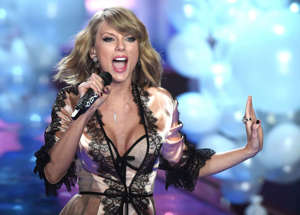 20. Billboard Woman of the Year Award (December, 2014)
On December 12th, Swift picked up her Woman of the Year Award at the Billboard Women in Music luncheon.
21. The Taylor Swift Experience (December, 2014)
On her birthday (December 13th), a new exhibition, the Taylor Swift Experience, opened at the Grammy Museum that went on through May 10, 2015.
22. Happy 25th, Taylor Swift (December, 2014)
She turned 25 on December 13, 2014. Taylor Swift is presented with a birthday cake at the 2014 Billboard Women in Music Awards event on December 12, 2014.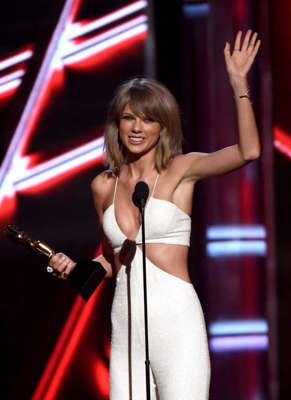 23. Women power in "Bad Blood" (May, 2015)
At the 2015 Billboard Music Awards, Swift launched her new music video titled "Bad Blood" that features some of the top celebs in the film-noir inspired song, including Jessica Alba, Cindy Crawford, Karlie Kloss, Lena Dunham, Cara Delevingne and Selena Gomez.
24. Top Billboard 200 Album (May, 2015)
Accepting the award for her album "1989" during the 2015 Billboard Awards, the music diva proved, yet again, why she is considered one of the biggest entertainers in the music industry today.
More on MSN
British Soap Awards 2015: EastEnders a big winner over Coronation Street
Pitch Perfect 3: Elizabeth Banks on a further sequel
One Direction dedicate Billboard award to 'brother' Zayn Malik