Angelina Jolie's son Maddox refused to reunite with Brad Pitt

New York Daily News
20/10/2016
Maddox Jolie-Pitt refused to attend an emotional reunion with Brad Pitt as sources told US Weekly that the 15-year-old "doesn't really see himself" as Pitt's son.
The teen reportedly chose to stay with mom Angelina Jolie, while his siblings Pax, 12, Zahara, 11, Shiloh, 10, and twins Knox and Vivienne, 8, met with Pitt for a supervised visit on Oct. 8 for the first time since Maddox got into an altercation with Pitt on a private jet on Sept. 14.
"Maddox is very close with Angie," a source close to Jolie told the mag. "He doesn't really see himself as Brad's son."
© Provided by New York Daily News Angelina Jolie Pitt and Brad Pitt split on Sept. 19. - Jonathan Leibson/Getty Images for Audi Maddox and Pitt were involved in a mid-air altercation on a Sept. 14 flight, which led to an anonymous call being placed with the Los Angeles County Department of Children and Family Services [DCFS] claiming the "Fight Club" actor was both physically and verbally abusive towards his eldest son.
A source close to Pitt told the Daily News that allegations he was physically abusive towards his son were "fabricated."
"He certainly could have behaved better, but there was no physical abuse," the source said.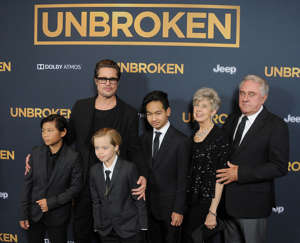 © Getty Actor Brad Pitt, kids Maddox Jolie-Pitt, Shiloh Jolie-Pitt, Pax Jolie-Pitt arrive at the Los Angeles premiere of 'Unbroken' at The Dolby Theatre on December 15, 2014 An investigation by the DCFS was ongoing as of Sept. 30 when the pair reached a temporary custody agreement, which expires on Oct. 20.
The parents agreed to joint physical custody of the six children, but it seems Maddox has chosen sides — a decision that is available to children over 14 in California.
"Maddox never wants to see Brad again," a source close to Jolie told Us Weekly.
Maddox was adopted from Cambodia by Jolie in 2002 — two years before she began dating Pitt. The "World War Z" star officially adopted Maddox in 2006.
Jolie, 41, filed for divorce from Pitt, 52, on Sept. 19, citing irreconcilable differences and a date of separation as Sept. 15.