Audi Avant a fast, sexy hyper-wagon

AAP
24/10/2016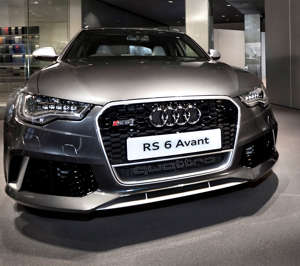 © Martyn Goddard/Audi via Getty Images Audi RS 6 Avant Being sensible doesn't normally feel this good.
And being practical, as far as I can remember, has never been quite so thrilling.
Because sensible, practical cars, as we all know, are more about function than form, or fun.
But German maker Audi has forever changed the rules for practical cars with its latest lethal load-lugger - the RS6 Avant.
Yes, technically it's a wagon. And yes, it does all of those practical, sensible wagon things.
But it brings a few additional adjectives to the wagon lexicon as well.
Sporty. Sexy. Stonking. Storming.
Not your typical wagon words.
Some might argue that a couple of other words fit just as well. Superfluous, for instance. Maybe even silly.
You see, on one hand the RS6 makes absolutely no sense. An indulgence that defies any kind of logic, delivering performance and capability that will never come close to being fully used on Australia's speed-averse roads.
On the other hand, it might just be the most versatile car ever built.
Think about this for a minute. Not only can it fit five people in absolute comfort, but it can swallow a mountain of luggage or golf clubs or whatever else you need to cart around. It's supremely safe with all-wheel-drive and an armada of electronic safety aides, warnings and avoidance measures. Not to mention gargantuan brakes that will stop it on a postage stamp (more of that later).
And it saves fuel at every available opportunity - turning off the engine when you're stopped in traffic and deactivating up to four cylinders when you're cruising along the highway.
In a one-on-one contest it will blow some of the world's top performance machines into the weeds. Its 0-100km/h sprint time of 3.7 seconds will leave plenty of Porsches, multiple Maseratis and even a few Ferraris choking in its exhaust fumes (and no doubt enjoying the seductive note of its twin-turbocharged V8 engine).
That engine pumps out a gaudy 445 kilowatts and 700 Newton metres of torque. You can buy bulldozers with less pulling power.
Yes, it's a wild wagon. An indulgence disguised as something quite useful.
Audi has carved out quite a niche for itself in this hyper-wagon territory.
Arch-rival BMW's M-Sport division doesn't even offer wagon variants of its M3 and M5 sedans. Benz's AMG does offer C63 and E63 Estate models - but they're not sold in anything like the volumes of their sedan siblings.
But Audi, with its RS4 and RS6 Avant (the Audi name for wagon) models treats these machines almost as "hero" elements of its formidable performance range.
That Quattro performance division has recently rolled out upgraded versions of the RS6 (and its sibling RS7 hatchback) - called the "performance" range.
Made necessary, apparently, because the previous RS6 Avant took a painfully-slow 3.9 seconds to reach the speed limit. Clearly some more go-fast bits were urgently required.
More than that, though, this car is proof that Audi's motto - Vorsprung Durch Technik - or progress through technology - is no idle boast. Every new model they bring out needs to lift the bar in one way or another. And this latest iteration of the RS6 most certainly does that.
It is a dazzling display of that technology - twin turbochargers delivering not only brutal power and acceleration but surprising fuel-efficiency for a car with this performance pedigree. While that menacing performance lurks barely below the surface, you can still drive this car quite conservatively - the immense torque of that twin-turbo V8 (750Nm when using overboost) meaning it will chug sedately around town.
All-wheel-drive grip makes it safe and secure in all conditions - and the massive brakes not only arrest it from racetrack-like speeds but also, as I encountered, allow you to stop almost on the spot when some inattentive guy in a Camry suddenly decides to stray into your lane without warning.
That's a good thing because the last thing I'd want to do is to hand back a $245,000 car with a few Camry scrapes on it.
Oh, did I forget to mention that? Yes - a quarter of a million for this very potent device.
Oh, that's not all by the way.
Our test machine came with an optional $12,000 Bang and Olufsen sound system - in case you'd like to listen to music other than that emitting from the massive tailpipes - pushing the on-road price towards $270k.
Audi also offers two "dynamic" packages - in case you crave just a little more performance. One costs $4900 and adds dynamic steering, a dynamic ride control system and an expanded top-speed (electronically limited) of 280km/h.
There's also a $25,840 "Dynamic package plus" that adds all of the above, but bumps up the permitted top speed to 305km/h (yes, in a wagon!) plus, sensibly, a ceramic braking system that will arrest those top speeds. Finally you can add an $8500 Carbon Styling package that adds some pretty carbon fibre features to the outside. Phew!
The nett result is a ballistic wagon costing well in excess of $300-grand.
Not everybody, of course, will see the value in this car.
Even my wife, who doesn't particularly like to drive fast and likes being driven fast even less, was aghast at the cost equation of the RS6.
And given Australia's very restrictive road speeds, it's not an easy argument to make. You'll rarely use this car beyond a fraction of its capability.
Not everybody is going to take their family station wagon for track days at Phillip Island or Lakeside, just to blow out the cobwebs.
But for those people who love cars - and I'm happy to be counted among them - this machine is worth every precious penny.
For the way it sounds. For the way it looks. For the way the body stiffens, then squirms and ultimately catapults you forward every time you push your right foot toward the floor.
Outside, it looks a million bucks - like no wagon you've ever seen. Low and lithe, almost as if it's melted to the road on its massive 21-inch wheels and wide, low-profile rubber.
Inside, the "RS" treatment feels sporty and special. The wrap-around sports seats feature a quilted finish, trimmed in a mix of Alcantera and Valcona suede leather.
The carbon fibre inlays in doors, dash and centre console are particularly tasteful. The chunky, flat-bottomed steering wheel, machined stainless steel gearshifter and the instrument panel are all embossed with the RS logo.
The head-up display is particularly useful, given this car's tendency to sneak above the legal speed limit without much encouragement.
Which brings me to one rather ironic footnote.
I've just received in the mail an infringement notice for exceeding the speed limit in this ground missile. The speed? 54km/h. A very sensible speed, you might think - particularly for a car capable of going at least five times as fast.
But not in a 40km/h zone, apparently.
AUDI RS6 AVANT PERFORMANCE
HOW BIG? It's based on Audi's A6 executive wagon, so it's a full-sized vehicle in terms of interior space and its carrying capacity.
HOW FAST? Where do we start. In the 3.7 seconds it takes to reach the legal speed limit, the Audi is just beginning to stretch its legs. The ballistic acceleration would continue all the way to 250km/h - and only then would an electronic limiter interrupt your progress.
HOW THIRSTY? In the interests of corporate responsibility, Audi has invested in numerous fuel-saving features on the RS6's twin-turbocharged, 4-litre V8 engine. So it uses as little as 9.7L/100km on the combined cycle, and substantially less in cruising mode.
HOW MUCH? Here's the painful bit. $245,400, plus onroad costs, just to get started. Tick a couple of boxes and there's no change out of $300k.