Ben Affleck: 'I'm so impressed by Jennifer Garner'

Cover Media
13/10/2016
The 44-year-old actress, who has three children with her estranged husband, stunned students in Reno, Nevada on Monday when she turned up at a rally to help them register to vote.
Her relationship with Ben has remained amicable since they announced in June 2015 that they were divorcing after 10 years of marriage, and Ben couldn't help but share his pride in the Dallas Buyers Club star after she also organised the community event she showed up for in Reno.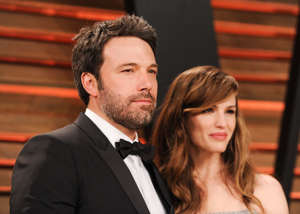 © BFAnyc.com/REX/Shutterstock Ben Affleck, Jennifer Garner "She's in Reno. Doing what she believes in. Which is great. (I) think it's awesome.
And I'm so impressed by it - her and everything she does," he gushed to U.S. news outlet Extra on the red carpet premiere of his new film The Accountant on Monday. "She's a great mum and that's how it is."
Despite their split, the actor explained he and Jennifer do their "best" to co-parent their kids, Violet, 10, seven-year-old Seraphina, and four-year-old Samuel - even travelling en famille to Europe while Ben filmed his superhero film Batman v Superman: Dawn of Justice.
The family's next activity will be celebrating Halloween together, Ben revealed.
"We both take them trick or treating," he smiled. While his children haven't yet decided on their costumes, the actor admitted he has no plans to go all out this year.
"They're still working on it. They haven't decided on a character. I'm not gonna dress up this year. I'm gonna go as Dad."