BHP Samarco disaster years in the making

AAP
30/08/2016
The assertion follows the release of a report into the technical causes of the deadly dam collapse at the Samarco mine in November, 2015, which caused a massive spill of waste material, polluted a major river and killed at least 19 people.
According to the 76-page report by geotechnical specialists, the disaster was the result of a series of design and drainage issues over a number of years.
The investigation was commissioned by BHP Billiton and Vale, along with their Samarco joint venture.
"We have no reason to believe that anyone at BHP had any information that indicated that the dam was in danger of collapsing," BHP's chief commercial officer Dean Dalla Valle told reporters after the release of the report in Brazil.
He ruled out cost-cutting by the group having any role in the disaster, saying there was no evidence anyone had prioritised production over safety.
The three companies involved in March struck a $US2.3 billion rehabilitation agreement with government authorities in Brazil to cover clean-up costs and damage from the disaster.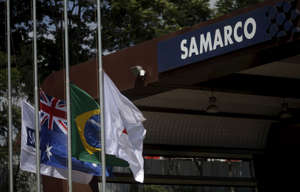 © REUTERS/Ricardo Moraes BHP Samarco disaster years in the making However, the complete financial hit remains uncertain after a Brazilian court in July agreed to reinstate a rival civil claim of $US6.2 billion. BHP and Vale have said they will appeal the decision.
A separate police investigation has also accused Samarco of wilful misconduct, saying the company ignored signs the dam was at risk of collapsing.
According to the report, changes to the dam's design during construction led to a less efficient drainage system, resulting in liquefaction of the saturated sand in the dam and its eventual collapse.
It outlined how construction defects in the original starter dam led to a redesign of the drainage system between 2011 and 2012. While this was being constructed there was failure to ensure separation of sand and slime waste, leading to saturation of parts of the dam meant to remain solid and secure.
Samarco also lifted output between 2011 and 2014 as iron ore prices fell, producing more tailings which forced the dam height to be raised.
This weight pushed the clay-like mud in the dam outwards, resulting in a loosening of the sand and ultimately caused it to flow like a liquid and cause the dam's wall to collapse.
The actual collapse was likely triggered by a small earthquake on the day the dam burst, the report said.
BHP said a review of its ten biggest dams had found the structures stable.
Fat Prophets resources analyst David Lennox said the initial report "seems to be somewhat damaging" for BHP Billiton and Vale.
"They were aware of problems and remedial activities were being taken, so they should have been monitoring the situation very closely," he said.
At 1340 AEST, BHP Billiton shares were trading 1.2 per cent higher at $21.18 each.