Brad Pitt has "secret recordings" that could harm Angelia Jolie's custody bid: reports.

Mamamia
12/11/2016
Every time we think the Brangelina divorce proceedings are almost done and dusted, a spanner is thrown into the works.
Earlier this week, Angelina Jolie's team released a statement confirming the pair had reached a custody agreement in regards to their six children.
"Angelina Jolie Pitt will continue to have sole custody of her six children with Brad Pitt in a joint agreement reached by the actors," the statement read.
Which would have been fine, if Pitt's camp hadn't also told People magazine that the couple were yet to reach an agreement.
Now, things are looking set to get even more dramatic, with reports suggesting that Pitt has 'secret recordings' of his soon-to-be-ex wife.
While it's not clear what exactly the alleged recordings contain, The Sun reports they capture information that could "dent Angelina's bid to win primary custody".
"We believe audio tapes exist of Angelina that would be absolutely dynamite against her if they were to be made public," a source close to the ex-couple has revealed .
"Nobody wants to play dirty like that - it's not good for the children - but Angelina and her team seem absolutely hell-bent on trying to discredit Brad in order to stop him getting joint custody."
The rumour comes just days after Pitt made his first public appearance - at the red carpet premiere of his latest film - since his divorce news made headlines.
Of the public's concern over the split, Pitt said that is was "nice to have the support" and that "everyone's been very kind."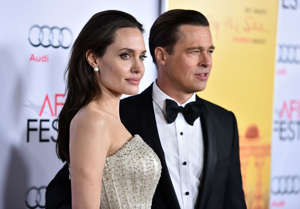 Angelina Jolie and Brad Pitt's journey as a couple