Brandis unfit to be AG: Labor says

AAP
8/11/2016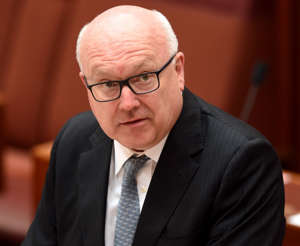 © AAP Image/Lukas Coch Australian Attorney-General George Brandis A parliamentary inquiry has demonstrated that Attorney-General George Brandis is unfit to hold his office and has misled the Senate, Labor says.
The report of a Senate inquiry into whether Senator Brandis consulted the solicitor-general before making a direction about how ministers can seek legal advice is being tabled in the Senate on Tuesday afternoon.
"This inquiry has clearly demonstrated the unfitness of the attorney-general to hold his high office," said Labor frontbencher Louise Pratt, who chairs the committee.
The Labor-dominated committee has recommended Senator Brandis be censured for misleading parliament and failing to discharge his duties as attorney-general.
It recommends the Senate disallow the direction or that Senator Brandis withdraw it immediately.
Labor will move on Thursday to disallow the direction with the support of the Greens and Nick Xenophon Team.
It's unlikely any censure would be moved this week as notice has to be given.
Liberal backbencher Ian Macdonald slammed the committee.
"It is a committee of the Labor party and the Greens, wasting Senate resources on political witch-hunts," he told parliament.
He said Solicitor-General Justin Gleeson, who resigned after telling the inquiry he was not consulted on the direction, had made "unfortunate decisions".
"He knows that it is not appropriate for him to tell the world about who he was giving advice to."