Breakers claim NBL overtime win in Perth

AAP
13/11/2016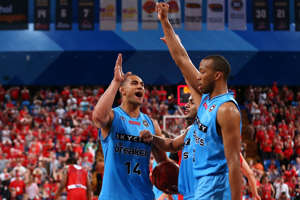 The New Zealand Breakers have managed a rare win at Perth Arena, beating the Wildcats 87-86 in overtime on Sunday.
It wasn't pretty, but wins against the Wildcats in Perth rarely are.Corey Webster went coast to coast and scored a lay-up with 1.40 second left on the clock to give the Breakers the lead.
Jaron Johnson's three-point attempt on the buzzer wasn't to be and it rimmed out.It helped the visitors' cause that Casey Prather was sidelined for the entire extra-time period with five fouls.
Jameel McKay also missed most of the second half and adds to the Wildcats injury woes as they are already missing captain Damian Martin for an extended period.
The two points from Webster gave him 20 for the game, with only Perth's Matt Knight ahead of him on the night.
Knight kept the Cats close earlier in the game when the Breakers were clearly on top.He finished with 24 points and 13 rebounds, as the home side dominated the boards, 59-40.
But for most of the game, they couldn't get their offence going and finished with an average 38 per cent from the field.
The Breakers victory was their first in Western Australia in six years.For most of the game, the Wildcats were unrecognisable as the reigning NBL champions.
Without Martin, their defence was way undermanned.Johnson, who electrified the crowd a week ago, had two points at 14 per cent at the half and finished with 12 points and went 0-6 from beyond three-point range.
The Breakers led 46-41 at half-time, but it felt as though they had a greater advantage.
The lead had been as high as 11 and was 10 with just 55 seconds left in the half.
Perth's Prather was the sole reason why five points separated the sides at the break.
He had a game-high 14 points at the break.
He scored three of them in that last minute, created two steals and assisted Matt Knight to two points to keep the Cats chances of an 11-game home winning streak alive.
That chance went out of the window with 3.55 minutes left on the clock when he was forced to the bench with 20 points and five fouls.