Coronation Street stars flee set after discovering 'ladybirds with sex diseases' in dressing room

Manchester Evening News
22/12/2016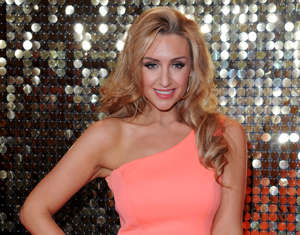 Corrie stars were forced to flee after their dressing rooms were invaded by ladybirds carrying sexually transmitted infection.
There have been numerous sightings of harlequin-type ladybirds - a species originally hailing from the US and Far East - in homes and businesses across Greater Manchester.
And the discovery of the black-winged insects in a changing room is said to have briefly halted filming at the ITV studios at Trafford Quay.
Experts say the ladybirds are on the look out for hibernation spots for the winter, and it appears the soap's warm studios were ideal.
But a Corrie insider says the swarm was contained to the dressing rooms alone and the rest of the set remained ladybird free.

Helen Flanagan – who has only just started back on the soap after a five-year break – was reportedly among those who first discovered the bugs.
The actress is well known for her fear of creepy crawlies and had many close encounters with them during her 2012 stint on I'm A Celebrity.
And co-star Catherine Tyldesley is said to have also spotted the bugs. She told the Daily Star: "I discovered loads of ladybirds all over the dressing rooms.
"They were all hiding out in there.

"There was yellow ones and everything. They're using the studios like holiday homes. It's madness."
The Harlequin bugs, dubbed the UK's fastest invading species, is said to carry a sexually transmitted illness, called Laboulbeniales fungal disease, which is harmful to other bugs.
And even worse, it can prey on the larvae of smaller insects, such as the two-spot ladybird.
The species look quite different to British domestic ladybird, having black instead of red wings.
The creepy-crawlies have been seen clustering around boilers, window frames and smoke detectors as they bed down for winter.
Steve McGrail, director of pest control company Pro Kill Environment, said Harlequin Ladybirds are not harmful to humans but recommended sealing windows to make sure they don't get in homes.
He said: "They are a non-indigenious species. They are coming inside in large numbers.

"They usually cluster around window frames and they cluster together to gather heat and hibernate in winter months."
Scientists say a fungus the creatures carry, which is passed on through mating, will infect our native species which are already under threat from habitat loss.
While they don't yet know if the fungus is harmful, the UK Ladybird Survey says it is possible that the disease affects the lifespan or the number of eggs a female can produce over her lifespan.