Day may stay in Senate, crossbench mate

AAP
25/10/2016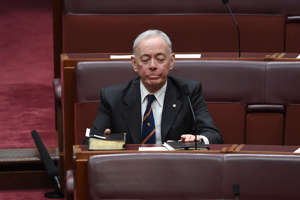 © AAP Image/ Mick Tsikas Family First senator Bob Day may not resign from the upper house if he can get his business affairs in order, a close ally says.
Senator Day, whose Home Australia business is in liquidation owing at least $12.5 million, signalled in an October 17 media statement he would resign from parliament but has not yet confirmed a date.
Liberal Democrats senator David Leyonhjelm said he understood there were two things holding Senator Day back from resigning - the possibility of his preferred replacement not getting the endorsement of his party and uncertainty over his business interests.
Senator Leyonhjelm said if a buyer could be found for the Home Australia group - which will be the subject of creditors' meetings in coming weeks - it was possible Senator Day could stay on in parliament.
Under the Australian constitution, a person cannot be a member of parliament if they are an undischarged bankrupt or insolvent.
"If a buyer is found and takes it off his hands ... then obviously he won't go personally bankrupt so he will be under no obligation to leave and I hope he will (stay)," Senator Leyonhjelm told Sky News on Tuesday.
Senator Leyonhjelm said Senator Day had indicated he wanted to stick around long enough to vote for the government bill to restore the Australian Building and Construction Commission.
"My thinking is he probably won't resign until late this year or early next year - if he goes," the NSW senator said.