Du Plessis ball-tampering saga rolls on

AAP
22/11/2016
The ball-tampering saga that has dogged Faf du Plessis over the past week is no closer to a final resolution, with South Africa's skipper vowing to appeal his guilty verdict.
Du Plessis, who is expected to speak to the media on Wednesday and confirm he is appealing, will play the day-night Test despite being found guilty of ball tampering for the second time in a tick over three years.
Du Plessis avoided suspension but was docked 100 per cent of his match fee after a three-hour International Cricket Council (ICC) hearing at Adelaide Oval on Tuesday.
Footage emerged last week from the second Test of du Plessis using saliva to shine the ball with a mint in his mouth.
Du Plessis wishes to appeal the verdict and fine of approximately $2500, even though that means risking a tougher penalty (such as a potential one-Test ban).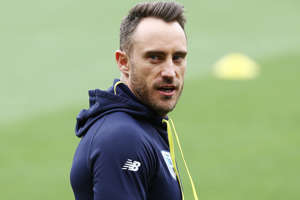 © Getty Images Faf Du Plessis of South Africa looks on during a South Africa training session at Adelaide Oval on November 22, 2016 in Adelaide, Australia. The appeal almost certainly won't be heard before the third Test between Australia and South Africa starts in Adelaide on Thursday.
South Africa coach Russell Domingo suggested the du Plessis case could be a watershed moment for cricket's rules regarding ball tampering.
Domingo, speaking prior to the hearing, insisted using mints or lollies to assist shining the ball is common practice.
Former Australia batsman and current national selector Mark Waugh admitted it would be difficult to police.
"I mean, where does it stop? Are you going to stop players chewing chewing gum, eating lollies, putting sunscreen on, putting product in their hair?" Waugh said on Fox Sports.
"It did (look obvious). You had to fine him for that. It was so obvious it was ridiculous. He basically put the lolly on top of the ball, didn't he?
"It's not a good look from the captain."
Former Test paceman Stuart Clark, speaking alongside Waugh, dubbed it "madness" and a "ridiculous fine".