Du Plessis caught giving ball lolly rub

AAP
16/11/2016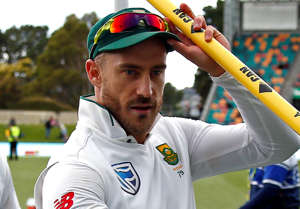 Footage has emerged of South African captain Faf du Plessis applying saliva to the ball during the second Test flogging of Australia in Hobart with a lolly in his mouth.
In what appears to be tactics similar to those used by England during the 2005 Ashes series to enhance the ball's ability to swing, the clip shows du Plessis - with a white lolly in his mouth - licking his finger before rubbing the Kookaburra and repeating the act at least two more times.
The act has been used in English county cricket, however Law 42,3 of the MCC cricket laws state that a fielder may polish a ball, "provided that no artificial substance is used".
Former England captain Marcus Trescothick in 2009 admitted he used mints to help produce saliva which kept the ball newer for a longer period of time during the 2005 series.
No action was taken against the English team, however the ICC reiterated law 42.3 when Trescothick made the admission, but said they would not ban players sucking on mints.
Interestingly, Trescothick noted in his autobiography that the tactic did not cause as much of an effect on Kookaburra balls as they did the English dukes.
Australian coach Darren Lehmann admitted his side struggled to face the swinging ball after their first innings total of 85 in Hobart, while they were also routed for 161 in the second innings to meekly lose by an innings and 80 runs and concede the series.
In 2014, Australian opener David Warner was fined 15 per cent of his match fee after he accused South African AB de Villiers of ball-tampering during the second Test in Port Elizabeth.
Warner's comments did not relate to the use of lollies or saliva, but rather allegations the South African wicketkeeper was roughing the ball up with his gloves.