Freshened up Accord makes little impact

AAP
27/09/2016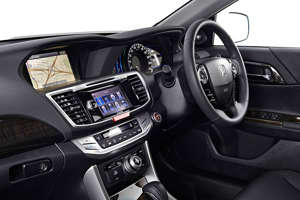 Call it the Tiger Woods syndrome: Being too good for your own good.
It happens when you set the bar so high, for so long, that even just coming back to the field is viewed as a failure.
Excellence can be a harsh master. So when someone, or something, achieves it for a sustained period, we tend to be rather unforgiving when the halo slips.
So it is for Japanese car maker Honda, which has copped a few bruises in recent years.
Having enjoyed its status as the "Mercedes-Benz of Japan" for a decade or more, Honda slipped back to the pack a few years ago and has struggled recently to regain its mojo.
Let's be honest - very few can become the best, and stay the best, year-in, year-out. The fact that Mercedes-Benz has done so for the best part of a century makes it...well Mercedes-Benz, I guess.
Honda, having been the Japanese benchmark for quality, stylish design and product innovation through the early 2000s, has watched rival Mazda grab that mantle and run with it. Happily, there have been recent signs of a Honda revival - including the relaunch of its halo model, the NSX supercar.
But there's still a way to go if the car we've just driven, the recently-refreshed Honda Accord, is any example.
The iconic Accord nameplate celebrates its 40th anniversary this year, and as recently as a few years ago was an unequivocal leader in its class. In fact, so popular was the model that Honda sold two distinctly different Accords at once in Australia -the sporty, four-cylinder Accord Euro and the bigger, plusher Accord V6.
The model has returned to a single body style these days - albeit it with the option of a four-cylinder or 6-cylinder powerplant - as tested here.
Now into its ninth generation, the Accord is still a good car, but probably sits somewhere in the middle of the pack these days - a similar tale to Honda stablemates like the the Jazz, CR-V and Odyssey.
A recent facelift has given the Accord a welcome freshen up, with new technology and electronic aides added to the mix. Those features include adaptive cruise control, collision mitigation braking system and lane-keeping assist system; multi-angle reversing camera, blind-spot monitoring and trailer stability assist. Luxury features include satellite navigation, leather trim with multi-zone airconditioning, electric rear sun-blind and colour touch-screen display.
One feature we particularly liked was a camera, mounted in the passenger side mirror, which is activated when the left-hand indicator is pressed. It displays an image on the centre screen that shows any vehicle - or obstacle - lurking in the driver's blind-spot. Once you're used to it, it's far more effective than the traditional audio or flashing-light blind spot displays.
We weren't as keen on the Accord's lane departure system that wobbles the steering wheel gently from side to side when you inadvertently cross a solid lane. It's much more intrusive - and unsettling - than other similar systems that merely vibrate the steering wheel or give an audible warning.
The Accord's finishes are first-class and the cockpit nicely thought out, with vivid colour display screens and easy-to-read, attractive instruments.
Dynamically, though, the Accord seems to have been left behind by its rivals.
The 3.5-litre V6 is punchy and smooth enough but at 9.2L/100km, is a bit thirsty. That's partly because it is coupled to six-speed auto that it falls short of best-in-class when compared to the eight and nine-speed options available elsewhere - or indeed the seamless smoothness of CVT transmissions found in class rivals. The four-cylinder Accord makes do with an even more primitive five-speed self-shifter.
Still, the Accord is handsome, comfortable and otherwise reasonably refined.
It's amply big and would make a viable alternative for buyers who soon won't have an Aussie-built Ford or Holden as an option.
With a pricetag of $52,590, even the flagship model represents an attractive, if slightly compromised, buying proposition. But it's up against some pretty decent competition - including compatriot offerings like Infiniti's impressive Q50, the entry-level version of the Lexus IS and, of course, the cheaper (and arguably better) Mazda6.
That's not to say that the Accord doesn't hold its own. It's a car I'd happily adopt as a day-to-day conveyance - but equally it wasn't particularly memorable in any way.
Perhaps it's the ideal car for Tiger Woods.
HOW BIG? Once a smallish hatchback, the Accord these days is a full-sized family sedan with room for five adults, plus a decent boot.
HOW FAST? Despite its impressive 206kW, the Honda's V6 delivers only average performance.
HOW THIRSTY? Its average thirst of 9.2L/100km is, once again, a bit disappointing.
HOW MUCH? We tested the flagship V6L model listed at $52,590 plus onroads. However the four-cylinder VTi starts as low as $32,990.