Gibson kept Teresa Palmer waiting for role

AAP
16/10/2016
Despite her talent and impressive acting CV, Mel Gibson left Australian actress Teresa Palmer waiting to find out whether she'd landed a role in his WWII film, Hacksaw Ridge.
The actress, who walked the red carpet at the movie's Australian premiere in Sydney on Sunday night, revealed the waiting made her particularly thrilled to get the part.
"I was just excited to be doing this movie (because) I had auditioned for it once, I didn't hear back," Palmer told AAP on the red carpet.
This has been a particularly successful period for the Australian actress who starred in horror movie Lights Out and the remake of Point Break among other films over the past few years, but she had to connect with Gibson again after her audition before she found out if she got the part. Even then, he kept her waiting a little longer.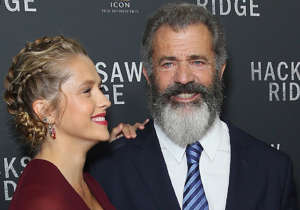 "I Skyped with him and I found out a few days after the Skype that I got the movie and it was just the most surreal feeling because I had never connected to a script so deeply or as much to a character as in this film," she said.
Despite the wait, Palmer had only positive things to say about Gibson and rates the director highly after her experience working on Hacksaw Ridge.
"He has now become my favourite director that I've ever worked with in my career. He's wonderful," she said.
The actress travelled from LA to Sydney at 31 weeks pregnant with her second child to attend the premiere.
Palmer plays Dorothy Schutte, the wife of Desmond Doss, played by Andrew Garfield in the movie.
The film follows the true story of Doss, a conscientious objector who served as a medic in WWII and saved 75 lives at the Battle of Okinawa
Gibson, true to form, has included some very realistic and gruesome battle scenes in the film which means Palmer won't be able to share it with her two-year-old son Bodhi yet.
"I think it will be a while until I show him the movie because the war sequences are really intense and they're brutal, and he (Gibson) doesn't sugar coat them, it's real," she said.
"It really feels real so I love it and I'm very proud of it."
* Hacksaw Ridge opens in Australian cinemas on November 3