Hanson calls for Norfolk chief's sacking

AAP
19/10/2016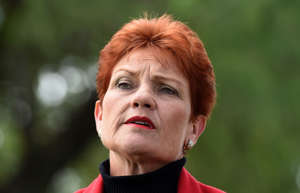 © AAP Image/ Dan Peled Pauline Hanson has urged the prime minister to sack Norfolk Island's administrator, former Liberal government minister Gary Hardgrave.
Senator Hanson visited the external Australian territory, 1600km northeast of Sydney, at the invitation of a group opposed to the federal government's revoking of self-governance.
Some islanders fear the local culture will be lost and businesses will struggle to meet new standards of pay and conditions for employees.
Others argue that access to better health care, roads and other federally funded infrastructure will improve life on the Pacific Ocean island.
Senator Hanson, who is on the island until Friday, wrote to Malcolm Turnbull on Wednesday asking him to dismiss Mr Hardgrave as there had not been proper consultation about the changes.
She said Mr Hardgrave, who has been administrator since July 2014, had been described to her as "divisive and counter-productive".
He should be replaced by someone "capable of rebuilding damaged relationships with Australia", she said.
The One Nation leader also called for an independent investigation into the island's administration.
Comment has been sought from Mr Hardgrave.