ICAC report on NSW Liberals due

AAP
29/08/2016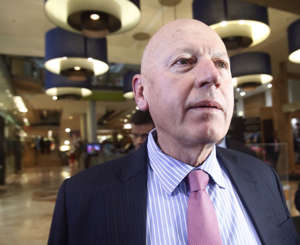 © AAP Image/Mick Tsikas Chris Hartcher The NSW Liberal Party is bracing for the findings of a drawn-out corruption probe into illegal political donations.
The Independent Commission Against Corruption (ICAC) is due to present its long-awaited report on Operation Spicer to Legislative Council president Don Harwin on Tuesday.
The cash-for-favours investigation probed allegations that prior to the 2011 state election, Liberal candidates and others solicited and received illegal donations, including donations from property developers, in return for favours.
Property developers have been banned from making political donations in NSW since 2009.
The probe has claimed the scalps of ten Liberal MPs, including two cabinet members - former energy minister Chris Hartcher and former police minister Mike Gallacher.
It was alleged during public hearings that Liberal MPs hid more than $400,000 in illegal donations using a front company named EightByFive.
There were also claims donations were funnelled through federal Liberal Party channels via the Canberra-based Free Enterprise Foundation.
Nathan Tinkler was among those hauled before the ICAC over allegations his company Buildev Pty Ltd made donations in order to advance a proposed coal terminal in Newcastle.
Among those forced to stand aside from the Liberal Party was Charlestown MP Andrew Cornwell, who admitted to taking $20,000 from developers, including $10,000 in cash allegedly given to him in a paper bag.
The final report of Operation Spicer was delayed after ICAC's investigation into crown prosecutor Margaret Cunneen was shot down by the High Court and laws were subsequently passed that changed ICAC's definition of corrupt conduct.
There was also a failed court challenge by a former Newcastle mayor implicated in the political donations scandal.
The findings are expected to be made public once the report is tabled in parliament.