Infiniti steps out of Nissan's shadow

AAP
3/08/2016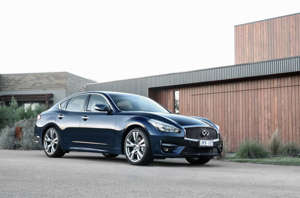 Sometimes, just getting noticed can be the hardest thing.
Like the shy, pretty girl at the school dance, or the skinny kid shivering at the end of the interchange bench - it's not always easy to get your share of attention.
Such is the battle being waged by Japanese luxury brand Infiniti.
Infiniti is the luxury arm of Nissan - in much the same way as Lexus grew from beneath the wing of Toyota. And even though the Infiniti brand is well known in Japan and equally prominent in the US market, it's a relative newcomer in Australia.
Getting a foothold is proving difficult.
That's partly because the company chose to launch Down Under at a time when some of its models were halfway through their model life - and after all it's the prettiest, shiniest new things that garner most attention.
Partly, too, it's because this premium section of the market is so well-stocked and ever-more fiercely contested.
Like Lexus, it's likely Infiniti will need to take a slow but steady approach as its range grows, along with its reputation.
While a number of new models will hit our shores very soon, the current standard-bearer is the Q70 luxury sedan. It's a very good car.
Problem is, it's a good car in a market segment overflowing with great ones.
Its rivals include some of the world's most admired models - BMW's iconic 5-Series, Audi's ever-improving A6, a just-released new model of Mercedes-Benz's market-leading E-Class - not to mention non-German competitors like the excellent new XF Jaguar and, of course, the Lexus GS.
Not an easy crowd from which to get spotted.
In my view, Infiniti currently sits where Lexus did a few years back - with much to recommend it, but still seen as hovering a rung or so beneath the European pack.
And, as was the case with Lexus, perhaps still just a little too close to its Japanese maker's heritage.
That's likely to change in the weeks ahead - when Infiniti launches its volume-selling Q30 - a smart-looking hatchback that shares much of its design and components with a Mercedes-Benz.
That will certainly help it stand apart from its Japanese siblings.
But that Rising Sun heritage is still very much evident in the Q70.
It's a handsome looking machine, without question - and even more so in its recently-updated form. It's sleek and muscular, with sweeping lines, eye-catching flared wheel arches and an elegantly sculpted bonnet and boot.
Big alloys and a bit of chrome bling complete an attractive picture.
Inside, too, it's beautifully finished and nicely equipped. But the architecture - at least in parts - is very similar to that used by Nissan in its higher-spec models. Not surprisingly, I guess, but an issue for a brand trying to set itself apart from the Japanese pack to steal buyers away from the Europeans.
There are plenty of positives to the Nissan relationship, of course. The Q70 enjoys a refined, crisp and punchy V6 engine that can be found in models like the Nissan 370Z - and one that's recognised as being one of the best on the market. Its 235 kilowatts help rumble the Q70 to the speed limit in a very respectable 6.2 seconds, coupled to an ultra-smooth seven-speed automatic transmission.
The Q70 is also available in hybrid form - the flagship variant of the Q70 range combines a V6 engine with electric motors which boost its acceleration to a very hasty 5.3 seconds for the 0-100km/h sprint - not to mention fuel-efficiency of 6.8L/100km.
So, how can Infiniti go about winning some much-needed cut-through with this car? Well, price is a good place to start.
The Q70 can be had for as little as $68,900 - or a driveaway price of $77,803. Even the most expensive model is $92,430 on-road which is tens of thousands cheaper than equivalent models sourced from Germany.
At that price it sits roughly head-to-head with the Lexus GS300 hybrid.
We drove the mid-range S-Premium model - priced at $88,323 on road - which features an impressive arsenal of electronics and luxury items.
Safety features include forward collision warning system, around-view monitor for parking, as well as detection systems for objects moving toward the car's path and an automated braking system when the car is reversing into danger.
Lane departure warning, intelligent cruise control, blind-spot warning (with braking intervention) and radar cruise control further enhance the car's safety credentials.
An intelligent key remembers the previous settings for audio, navigation and climate control, depending upon which driver's key is used.
Inside, the nicely-trimmed leather seats are heated and infinitely adjustable and the cabin has a classy, upmarket feel. Instruments are crisp and clear, the colour central screen features a high-resolution display.
Infiniti engineers have spared no effort in making the Q70 feel high end.
As well as a superb BOSE 10-speaker audio system, it uses an Active Noise Control system to detect cabin noise levels and generate "cancelling" sounds from the audio speakers. Infiniti claim this makes conversation - or just listening to the music - easier for occupants.
The Q70 enjoys a sizeable boot (500L in most models, reduced to 350L in the hybrid), and all passengers are afforded excellent legroom and headroom.
Infiniti is working hard to develop its "ground game" too - building very plush, shiny dealerships with acres of marble, leather couches and coffee machines.
That might eventually be enough to get curious car-buyers in for a look, at the very least. They'll doubtless be impressed by what they see.
INFINITI Q70 S PREMIUM
HOW BIG? A full-sized, five-seater, it goes head to head with the European executive offerings.
HOW FAST? Thanks to a crisp, punchy V6 engine it's got plenty of poke and is impressively smooth. An extra $4000 will get you the hybrid version which is quicker still.
HOW THIRSTY? With an average consumption of 10.2L/100km it's hardly a stand-out, particularly against the Euro rivals offering diesel variants or more frugal four-cylinder turbo options. But the Q70 hybrid manages 6.9L/100km as well as more acceleration.
HOW MUCH? Infiniti offers driveaway pricing of $77,803 for the entry-level Q70 GT. Our test machine, the plush S-Premium, adds plenty of extra gear, plus a super audio system, for an extra $10-grand.