Jeremy Kyle under fire for telling guest to kill themselves

Evoke.ie
29/10/2016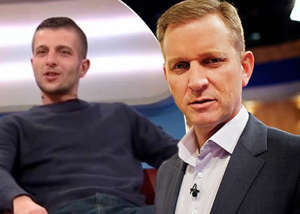 Jeremy Kyle is no stranger to controversy but it looks like he might have really crossed the line this time.
The presenter appeared to tell a guest he should commit suicide.
The comments were made to a guest named Michael on his show who undertook drug tests to reveal whether or not he had taken illegal substances since 2012.
The results came back positive after Michael admitted to taking cocaine, liquid methadone and other substances.
However, he appeared indifferent when Jeremy confronted him about his drug use and responsibilities as a father.
Pic: ITV
© Provided by Associated News
And Michael racked up the tension when he said he would 'rack up lines' in Jeremy's studio toilet.

He then twisted the knife by vowing to take more drugs, and then suggested Jeremy as a hypocrite as a former addict himself.
Seeing red Jeremy did not hold back: 'Go ahead mate. Get lost. Do one. Kill yourself. Put something inside you that actually decides that – do one!'

Viewers were taken aback by the insensitive remark.
* Readers seeking support and information about suicide prevention can contact Lifeline's 24-hour telephone counselling service on 0800 543 354. Or contact Suicide Crisis Helpline (aimed at those in distress, or those who are concerned about the wellbeing of someone else) - 0508 828 865 (0508 TAUTOKO)
The Jeremy Kyle Show's official Twitter updated viewers on Michael's condition to say he is 'doing much better' and in contact with his family.
The post Jeremy Kyle under fire for telling guest to kill themselves appeared first on EVOKE.ie.   
Michael says he's doing much better since the show and is still in contact with his dad

— The Jeremy Kyle Show (@itvjeremykyle) October 28, 2016