Kendall Jenner and Gigi Hadid tuck into burger and mac and cheese after Victoria's Seret Fashion Show

Evening Standard
1/12/2016
Kendall Jenner joined sisters Bella and Gigi Hadid for a blowout meal to celebrate wrapping up the Victoria's Secret Fashion Show.
The models all stormed the catwalk at the Grand Palais in Paris after months of strict dieting and gruelling work out routines.
Bella documented their feast on Snapchat as they all chowed down on junk food at the unofficial after-party at Ferdi.
"Kenny is the MVP," Bella said. "She set up all of this so we could eat burgers tonight after the show."
Jenner was filmed wolfing down a burger as Bella asked: "Kendall, we have been here for like three minutes. Are you ok? Are you ok?"
The Keeping Up With the Kardashians star had clearly worked up an appetite as she quickly moved onto "round two" which was a bowl of mac and cheese.
Jenner previously opened up about following a strict diet to get in shape as an angel and revealed she drinks a dozen cups of detox tea daily.
She said: "I usually start my day off with a cup of detox tea. I have like 12 cups a day... and have a clean diet with loads of fruits, vegetables and lean proteins."
The girls later headed to the Mandarin Oriental Palace to join a host of famous faces at the after party.
Jenner was spotted in the DJ booth while Bella and Joan Smalls showed off their moves on the dance floor.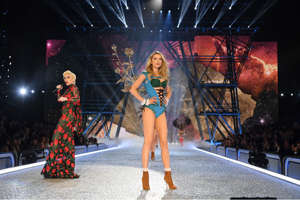 Victoria's Secret Fashion Show 2016: In pictures