Kia Cerato unsurprisingly good

AAP
12/12/2016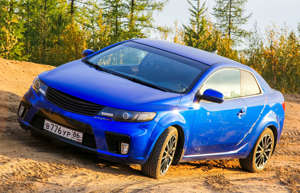 © DarthArt/iStock Editorial/Getty Images Kia Cerato There comes a point at which you stop being surprised about things.
It's no longer surprising, for instance, when Australia's cricketers lose a Test match (or series).
It's no great surprise when you turn on the TV and there's nothing decent to watch. Particularly while the cricket is not really worth watching.
Similarly, it's no surprise when we drive a modern car and it's much, much better than we had expected it to be.
Particularly Korean cars, which seem to further defy expectation every successive time we drive them.
Yet Kia is still marketing its vehicles behind the motto "The power to surprise".
Surely it's time we stopped being surprised.
After all, I can't recall the last time I drove a Korean car when I wasn't positively impressed by the quality, style and overall enjoyment it delivered.
Kia's recently-updated Cerato hatchback is a perfect example.
It's a car with which we're quite familiar - my son has owned a Cerato for the past year or two and has nothing but good things to say about it.
But I still couldn't help but being impressed - and yes, maybe a little bit surprised - by the generous equipment levels and quality finishes of the recently-updated model.
Admittedly we were driving the flagship version - the SLi with a driveaway price of $32,490. But even so, it packs a lot of equipment and technology into a car that's within the reach of most new-car buyers.
Let's see - how does dual-zone climate control, leather trim, eight-way power adjustable driver's seat, lane departure warning, forward collision warning, LED running lights and High Intensity headlights sound? You can add to that list heated and ventilated front seats, sunroof, blind-spot detection, 17-inch alloys, paddle-shift gearchange and alloy pedals.
Even when you step down the model list a couple of rungs, the Cerato still boasts a long list of included features.
The base-model S for instance, delivers power windows, cruise control, front and rear parking alert, keyless entry, Bluetooth phone and streaming plus six airbags, stability and traction control, all within a sub-$20k pricetag. Kia even throws in a free automatic - not to forget the company's industry-leading seven-year warranty - into that juicy price point.
If you're willing to spend an extra five grand on the S-Premium model you can add blind spot detection, lane change assist and seven-inch touchscreeen (bringing with it Apple Carplay or Android Auto and satellite navigation and rear-view camera).
The Si, still under $30,000, boasts leather trim, smart key with push-button start, folding mirrors, blind-spot detection and lane assist plus rear cross traffic alert.
No wonder, then, that the Cerato has been a hugely successful model for Kia - racking up over three million sales globally since its introduction in 2003.
It's become an unquestionably more attractive car with each successive model, and a modest cosmetic tweak has given a slightly sleaker, fresher look to this updated model.
All versions get new headlights, bumper and foglights plus a re-profiled hood.
Inside, Kia has introduced some upgraded materials and surfaces to enhance the ambience, with tweaks to the air vents (now finished with metallit trim) and the gearstick. Soft-touch surfaces are also more common in this new model.
Dimensions remain unchanged, meaning impressive interior space for a car in this compact segment. The Cerato happily accommodates four adults and at 188cm I was amazed (yes, maybe surprised) to be able to fit into the rear seat so comfortably.
The Cerato is available in five-door hatchback and four-door sedan format - delivering further flexibility to its target market of young families.
The engine and transmission combination are largely unchanged, with the zippy two-litre, four-cylinder powerplant pushing out a useful 112kw and 192Nm. It's a willing device with a reasonable 7.1L/100km thirst.
Buyers have the option of six-speed manual or automatic transmissions - we tested the auto which, while not quite class-leading, is smooth but has a tendency to hunt around for ratios occasionally.
Kia says it has also updated the Cerato's suspension with upgraded front springs and dampers helping to deliver slightly stiffer, more confident handling without adversely affecting ride comfort.
Our test found nothing to contradict that - it's a nicely balanced, acceptably quiet machine that's nimble and very easy to drive.
All automatic models become even more so with the addition of a drive-mode select system that offers the choice of normal, eco and sport modes.
It all adds up to an ever-improving package that delivers practical, fuss-free motoring at a very accessible price. Well built, well specified and well pedigreed.
It's exactly what we've come to expect of Kia.
No surprises there. We should expect nothing less.
KIA CERATO SLi
HOW BIG? For a compact hatchback it delivers plenty of legroom front and rear, plus generous cargo space. Four adults poses no problem.
HOW FAST? Its modest performance is, nevertheless, everything an average driver could hope for. It's zippy around town and has ample overtaking capacity on the open road.
HOW THIRSTY? About mid-range in the economy stakes with average thirst of 7.1L/100km. Not brilliant, but not bad, either.
HOW MUCH? Entry-level models of the Cerato can be had or less than $20k, drive away. We tested the flagship model that came with all the bells and whistles - for a still-affordable $32,490.