Labor has key vote on gay marriage

AAP
29/08/2016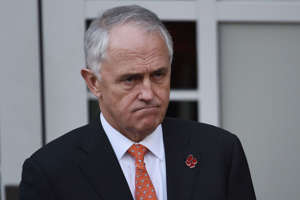 © AAP Image/Mick Tsikas Malcolm Turnbull Labor says Malcolm Turnbull is standing in the way of same-sex marriage becoming a reality in Australia.
But the prime minister has urged the opposition to get behind laws to enable a national vote, which the government wants to hold before parliament makes the change to the Marriage Act.
With the Greens and a number of crossbenchers opposing the plebiscite, it is down to Labor to decide whether the plebiscite goes ahead this term or the issue is shelved.
Shadow attorney-general Mark Dreyfus says there is an alternative - allow Liberal MPs a conscience vote and pass a private member's bill in coming weeks.
He says Mr Turnbull is showing a lack of leadership in agreeing to a national vote which would be divisive, costly and unleash hate.
However, Labor strategist Bruce Hawker says if push comes to shove the opposition should back a plebiscite.
"A well-argued, tough campaign put forward by the pro-same-sex marriage coalition would win and win pretty handsomely in a plebiscite," he told Sky News.
"I would like to see it happen and I suspect a lot of people in the Labor party feel the same way."