Michael Jackson was 'livid' with Madonna' after kiss when star slammed his style

Mirror
11/12/2016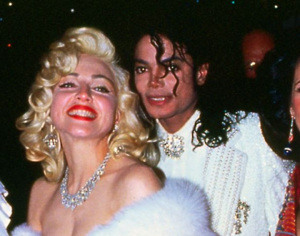 The world was shocked when Madonna dished details on her kiss with Michael Jackson, and now it's been revealed why the pop couple never officially got together.
Earlier this week, Madonna's Carpool Karaoke aired with James Corden and the British host quizzed her on her rumoured romance with the late King of Pop.
She revealed that they had shared a steamy kiss after she made the first move but any form of romance was short-lived.
A family friend, Flo Anthony, has now revealed why Michael put the brakes on, claiming that he had been furious with Madonna's suggestion of a style overhaul.
"He told me back then (in the early '90s) that she'd spent the night at Neverland," he told New York Daily News.
"He also told me that she'd told him if they were going to start dating, she wasn't going to Disneyland, his favourite place.
'The reason their relationship didn't stick was because she did an interview on TV saying she would like him to get a new look and she wanted to get him out of those buckles."
Anthony continued: "He was livid that she criticised him on TV. I'm not sure, but I don't think he ever spoke to her again. He was mad as hell!"
© Provided by Trinity Mirror Plc Madonna "loosened up" Michael Jackson with a glass of wine before she made a move on him.
The 58-year-old singer admitted she had shared a "full French kiss" with her friend - who died of acute Propofol intoxication in June 2009 - but he needed alcohol to help him relax before he would be a "willing accomplice" in the romance department.
Asked by Corden during his Carpool Karaoke segment on The Late Late Show if she and Michael had ever kissed, she admitted: "Of course. I mean, baby, I've been around! "Yeah, tongue-in-mouth kissing. I haven't had the chance to talk about it, no one ever asks me."
When then asked who had made the first move, the Like a Virgin singer admitted: "Well, I did, if you wanna know the truth. Cause he was a little bit shy. However, he was a willing accomplice. I did get him to loosen up with a glass of Chardonnay. And it did. It worked wonders."
Madonna - who has children Lourdes, 20, Rocco, 16, David, 11, and Mercy, 10 - didn't say when she and Michael kissed, but they did attend the Academy Awards together in 1991.