Music festival goers warned about collapse

AAP
1/12/2016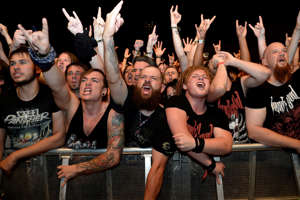 © Martin Philbey/Redferns Crowd at the Soundwave Festival at Melbourne showgrounds Music festival goers are being advised to buy tickets with credit cards as it is easier to get refunds that way, after an eight-fold increase in complaints in Victoria.
The collapses of Soundwave and bush-doof Maitreya this year left many ticketholders and industry workers confused about who is liable to deliver refunds.
More than 160 people filed complaints with Consumer Affairs Victoria about music festivals in 2015/16 - up from about 20 in the previous 12 months.
Consumer Affairs Victoria on Thursday advised people buying tickets for this summer's festivals to do so with a credit card or PayPal so they can seek a chargeback if everything goes belly-up.