New Fiat Bambino is tiny but powerful

AAP
10/09/2016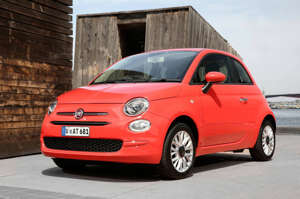 © AAP Image/Fiat Niche markets don't come much smaller than this.
The appetite for high-performance, micro-sized city cars must surely be as minuscule as the cars themselves.
So finding yourself behind the wheel of a Fiat 500 Bambino with 103 kilowatts beneath the bonnet is a pretty rare opportunity.
So rare, in fact, that the car isn't even built by Fiat - instead it arrives in Australia via Italian performance house Abarth.
So, why are we even driving this machine, known as the Abarth 595?
Well, because it's a Fiat 500 with 103 kilowatts beneath the bonnet, I suppose.
That might not sound like a particularly awesome power output.
But considering it's tasked with pushing around a car not much bigger than a basketball shoe, the results are pretty impressive.
This is not our first time testing an Abarth-tuned Fiat Bambino. Our previous experience a couple of years back left us comparing the car to Chuckie - that sweet-faced doll with a murderous evil streak.
That one - known as the Esseesse - was even more potent - with 118 turbocharged kilowatts and a 0-100km/h sprint of about seven seconds.
This new model, the 595, sits somewhere between that more potent version and the standard 500 - and with a pricetag of $27,500 it represents the new "entry point" for Abarth in the Aussie market.
The Abarth brand is to Fiat what AMG is to Mercedes-Benz, or HSV is to Holden - a specialist tuning house that works in tandem with the parent company to deliver a performance-enhanced variant.
It's a brand worth watching - we're told that in the not-too-distant future they'll be bringing another model to the Aussie market - the Abarth 124 Spider, based on the latest Mazda MX-5 but wearing a Fiat badge - which promises to be quite a thing.
Abarth - founded about sixty years ago and with a Scorpion as its logo - describes its cars as "small but wicked", which pretty much sums them up.
To be honest, the 595 is probably a car that only the Italians could get away with.
Try to pimp up a Toyota Yaris or Nissan Micra in the same way and you'd most likely get laughed out of the joint - but somehow the Italians manage to keep a straight face about this angry little Bambino.
It's partly cute - and partly a hoot - and is an easy car to enjoy with its responsive performance, razor-sharp handling and surprising driveability.
The chassis is stiff but the ride is still reasonably compliant. It scoots around corners adeptly but doesn't crash unnecessarily over road imperfections.
The 595 uses a five-speed manual transmission, rather than more customary six-speeder found in most vehicles like this. But the ratios are well-spaced and seem to keep the engine in its sweet spot most of the time.
Small, revvy engines like this tend to be a bit temperamental and easily stalled. That's not the case with the Abarth, which has a nice, progressive clutch and is relatively easy to drive in stop-start situations.
That probably fits well with its target market - which falls somewhere just short of the hard-core buyers who'll be attracted to the fully-fledged Abarth model we've driven previously.
Despite its minute size, it has a sturdy, assured road presence. In fact you sometimes have to remind yourself what a tiny car this is. Sitting in the driver's seat, it's possible to reach out your left hand and touch the passenger's side window. Lean back a bit and you can touch the glass in the rear hatch.
The cockpit is barely bigger than a shower cubicle yet it can, at a pinch, squeeze in four occupants - at least two of those in relative comfort. If you need to accommodate a set of golf clubs or two, it will handle that task with the rear seats folded forward (although unfortunately they don't fold completely flat).
Yet for the most part, it works well. The exception was my difficulty in finding an ideal driving position. Because the steering wheel does not adjust for reach, it's necessary to push the driver's seat forward enough to get a good grip on the chunky little sports wheel. But for someone my size, that means driving with knees bent and occasionally knocking into the dash.
Hey, I guess there have to be some compromises in a car of these dimensions.
Its makers have been reasonably generous with the equipment - as you might expect in a tiny car costing the best part of $30-grand.
On the performance front, as well as the tweaked-up engine it enjoys bigger brakes, beefier suspension and wider tyres than a standard 500 - as well as a sports exhaust that delivers a pleasing engine note.
Seven airbags, reverse parking sensors and a suite of electronic handling aides keep it safe; a seven-inch TFT instrument cluster delivers the relevant information to the driver and there's a also a turbo boost gauge, with a light telling you the optimum time to switch gears, to avoid you over-revving the engine.
Cockpit functions are reasonably user-friendly and, it goes without saying, within easy reach - although I had the devil's time in trying to get my mobile phone to connect via Bluetooth. Room for improvement there.
Apart from that, there were few complaints about this impish little machine that delivers plenty of fun for your money.
FIAT ABARTH 595
HOW BIG? Not very. Remember those dodge 'em cars at the show? About that size, but with heaps more power.
HOW FAST? Its acceleration numbers aren't dazzling but it feels much quicker when you're behind the wheel. Acceleration is willing and its nimble handling and low-slung ride mean you feel like you're going fast, even when you're not.
HOW THIRSTY? For a tiny machine with a 1.4-litre engine, its thirst 5.8L/100km is nothing to write home about - although in day to day running you'll hardly blow your budget.
HOW MUCH? The standard hardtop version is $27,500 plus onroad costs - or for an additional $4000 there's a convertible model with a sliding soft-top roof.