New Jaguar a sports car or SUV?

AAP
4/10/2016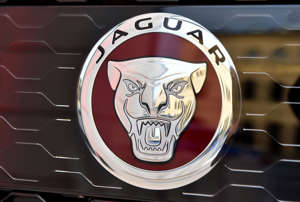 © Hannes Magerstaedt/Getty Images New Jaguar a sports car or SUV? They've become a motoring icon by building some of the most desirable luxury sedans and sports cars the world has seen.
So what the heck, you might ask, would the people at Jaguar know about building an SUV?
Well, quite a bit as it turns out.
The grand old British brand is but the latest in a long line of unlikely recruits to the SUV revolution - a charge started by Porsche with its once-controversial, now commonplace Cayenne and more recently joined by the likes of Bentley, Maserati and even Lamborghini.
Now Jaguar has entered the fray with its freshly-minted F-Pace. And they haven't just joined the SUV club but set some new rules for it.
The F-Pace is dynamic, beautiful and plush. Not always what we've come to expect from an SUV, but definitely what we've come to expect from a Jag.
This very different Jag has been cleverly positioned in terms of size and price; brilliantly conceived in terms of design and functionality, and sweetly formed in its desirability and brand appeal.
Considering it's Jaguar's first foray into the SUV market, the F-Pace is stunningly good. It's a match for any in this league and brings features not previously seen in this type of car.
Like the little side-steps that automatically emerge from beneath the car when you're trying to climb in and out - and then just as cleverly retract again once you've finished using them.
Or the ingenious activity key - a rubberised wrist band similar to a FitBit - that can be worn when you're surfing, swimming, cycling, running or doing any of those outdoorsy things that SUV owners are supposed to do.
It allows the user to leave their bulky Jaguar key inside the car - instead locking and unlocking the F-Pace via transponders in the band which are detected by sensors in the car's rear hatch.
It's pretty thoughtful stuff - and a big improvement on the one-time surfie trick of hiding your car keys on top of the wheel or tucked away in the bodywork while you're in the water.
Jaguar's claim that the F-Pace is "more Jag than SUV" is underpinned, literally, by the architecture beneath that slinky exterior. Most of the F-Pace's running gear has been evolved from the highly successful XF sedan.
And just as the XF is one of the better riding and handling machines on the market, so goes the F-Pace - albeit on a slightly more elevated level. That's elevated in terms of distance above the ground.
Despite this so-called "sports command" driving position, it feels thoroughly anchored to the road and very stable in turns and when asked to stop in a hurry.
That stability comes from some typical Jaguar design queues - long wheelbase, short overhangs and powerful haunches.
Jag claims much of the F-Pace design is inspired by the F-type two-seater - but there's plenty more Jaguar DNA as well. The company's commitment to aluminium construction is evident, with 80 per cent of the F-Pace using the lightweight metal.
As a result, its surprisingly low kerb weight of about 1700kg in turn delivers that nimble handling and impressive fuel-efficiency.
We tested the mid-range version of the F-Pace - the R-Sport model with 3-litre V6 turbo-diesel and an asking price of $90,304. That gets you 221kW of power, a thundering 700Nm or torque and eight-speed auto, driven through all four wheels.
The F-Pace range starts with a smaller (but lighter) 2-litre turbo-diesel from $74,340 - right up to the racy supercharged petrol V6 F-Pace S topping $120k.
For the first 12 months of sale, Jag will offer a "First Edition" variant that brings additional equipment to the flagship models.
The list of features is long and lavish, particularly in higher-spec variants.
Interior highlights include a 10.2-inch colour touch screen which runs the InControl Touch Pro system. Very smart and intuitive.
The instrument panel is virtual and configurable, supplemented by a useful heads-up display of speed and turn-by-turn navigation instructions.
The cockpit wants for nothing and will feel very familiar to those who've sampled the XF, with its elegant, sweeping dashline and signature rotary gearchange dial.
Great seats, great finishes and high-quality materials deliver a luxurious feel.
Technology abounds. A stereo camera not only drives the adaptive cruise control and autonomous braking function, but also the lane departure and lane-keeping systems, intelligent speed limiter and pedestrian detection functions.
Higher-spec versions include configurable dynamics to allow individual throttle, transmission, steering and adaptive dynamics.
Luxury features include heated and electrically reclining rear seats in the Portfolio models.
There are four engine choices - the two diesels plus two versions of the petrol V6 (250kW and 280kW) plus four trim levels ranging from Prestige to R-Sport, Portfolio and First Edition.
At every step point the Jag represents very strong value. While it's comparable in size to the BMW X5 and Mercedes GLE (formerly the ML) - it's priced more closely to their little-brother mid-sized models like the X3 Beemer and GLC Benz.
Dynamically, the F-Pace is a stand-out.
The 3-litre diesel is a cracker with a huge reserve of low-down grunt and impressively smooth and quiet operation. Coupled with a beautifully mated eight-speed automatic, it will reach the speed limit in a touch over six seconds, while delivering average fuel consumption of 6L/100km. That's an extraordinary combination.
Jaguar might be SUV rookies but they've left little to chance. Weaknesses are hard to spot.
I'm not certain that the touch-screen method is necessarily best-practice - it does require you to take your eyes off the road for a second or two - but Jaguar has made the controls as intuitive and easy-to-spot as possible, so it works well.
Still, I suspect the dial-and-click systems favoured by the Germans are still a touch more convenient.
That said, there's few other criticisms of this big, elegant machine.
It looks a million bucks, even though you can get behind the wheel for less than 10 per cent of that outlay.
Would I buy one? Well, put it this way.
A mate of mine happens to be in the enviable position of shopping for a high-end luxury SUV for his wife. Lucky him. Luckier her.
He's narrowed the choices down, pretty much, to two : a Range Rover Sport
or the F-Pace.
Yes, one of the most admired, desired and fully evolved luxury off-roaders on the planet. Versus the just-arrived, yet-to-be tested Jag.
My advice to him? Buy the Jag.
JAGUAR F-PACE 3.0 R-SPORT
HOW BIG? It sits somewhere between full-sized rivals like the BMW X5 and its smaller-brother X3. But with room for five adults, 508 litres of cargo space (and enough width to lie golf clubs crossways), it's amply-sized.
HOW FAST? The entry-level 2.0-litre diesel is the least powerful - but go for the bigger diesel or either of the petrol engines and you're getting a very smart performer indeed. The quickest model will reach the speed limit in just over 5 seconds.
HOW THIRSTY? Again, that depends on your engine choice. The base model gets an impressive 5.3L/100km - but we were more impressed by the 6L/100km thirst of our 3-litre, high-performance diesel test car.
HOW MUCH? Prices start in the mid-$70,000s, with flagship models costing almost twice that much.