New Mercedes-Benz lives up to hype

AAP
15/11/2016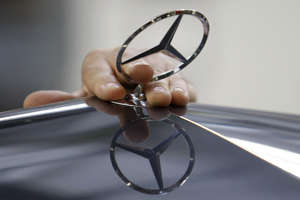 Mercedes-Benz describes this as the most technologically advanced car they have ever built. Which is a bit like singling out Bradman's finest innings, or Donald Trump's greatest gaffe (not that it's done him too much harm).
Still, when the world's pre-eminent carmaker places such lofty expectations on a new model, the pressure to deliver is immense. Yet somehow, the new Mercedes-Benz E-Class lives up to the hype.
It delivers luxury, technology, style and refinement in measures we couldn't have dreamed about just a few years ago, such has been the pace of change, and advancement, in the luxury car segment.
Mercedes calls this the tenth-generation E-Class - although technically the company only adopted its letter-first naming convention in 1993. But it's the latest expression of Benz's love affair with the executive saloon format that started as far back as the early 1950s.
While it sits only midway up the Mercedes pecking order, the E-Class has in may ways been a standard-bearer for the famous three-point star for most of that time - with every successive model an evolutionary step forward.
The problem, of course, is that it's increasingly difficult to keep raising the bar.
These days, technology is the dominant currency when it comes to selling cars in this very discerning part of the market and it's here that Benz has put most of its focus.
Style, comfort and high-end specifications are a given, whether you're shopping for a Beemer or a Benz, an Audi or an Infiniti, Lexus or Jag. While Jaguar has marked out its territory as the sporty, stylish alternative, the Germans are duelling for the technology edge - a battle to cram as much electronic wizardry as possible into their respective offerings.
Enter the "smartest" Mercedes ever.
Benz suggests that the new E-Class is a "major step towards autonomous driving' - with some critics already dubbing it as the car that virtually drives itself, thanks to a new range of passive and active driver aides unveiled in its safety suite.
Central to that is a Drive Pilot function that controls the speed, steering and distance to the car in front using a series of sensors. Adaptive cruise control and self-parking systems further reduce the onus on the driver.
Active lane-departure mitigation and autonomous collision avoidance make this car almost impossible - or at least very difficult - to crash.
The E-Class will initially be offered in five model specifications in Australia - with a choice of four-cylinder turbo petrol and diesel engines (the E200 and E220d), a six-cylinder petrol V6 (E350) and turbodiesel (E350d) and a twin-turbocharged six-cylinder (E400). An even more powerful eight-cylinder petrol variant, plus an electric hybrid, will be unveiled in the new year.
We drove the new E-Class in its least expensive, most basic form - the turbocharged, four-cylinder E200 - using a two-litre petrol engine delivering 135kW and 300Nm.
With a starting price of $89,900 plus onroad costs, it's about $10-grand more expensive than the previous entry-level model, although technology and comfort have both been substantially ramped up.
In fact first impressions suggested the E200 feels more like the flagship S-Class limousine - both in appearance and functionality.
Key to that is the widescreen cockpit format - first unveiled in the S-Class - with side-by-side 12-inch, high-definition display screens replacing the customary instrument panel and command-screen format.
The screens can be customised to suit the driver's preference - with three main modes and an almost limitless range of customised formats.
Navigating the two screens is simple, thanks to two little touch-pads, which replace buttons or scrolling dials, on the steering wheel controls. They work by brushing your finger over them - the same technology as your smart phone - bringing new meaning to the term fingertip control.
The two screens stretch two-thirds of the way across the Benz's dash, which is distinguished by a curving, sculpted swathe of timber panelling that disects the cabin.
It's beautiful, tasteful and seriously luxe.
The turbine-style airvents, piano black finishes and sleek centre console evoke both the S-Class and the smaller C-Class, establishing a very clear design ethic across the Benz sedan range.
Outside, the family lineage is equally strong, particularly from the front and rear.
Dynamically, the E-Class has always been a personal favourite with its flat, well-resolved handling and peerless ride and quietness. This model continues that tradition.
Okay, the 135 kilowatt turbo four hardly delivers firecracker performance, but it's perfectly adequate and many Benz devotees would never ask for more performance than this car delivers.
But I'd be inclined to spend at least the additional $3000 to step up to the diesel-powered E220, which boasts substantially more torque and, as a bonus, a ridiculously frugal thirst of just 4.1L/100k.
Many will no doubt be tempted to look further up the model range but the next step up is a big one - $134,900 for the E350d.
Historically, high-end European brands have tended to deliver slightly spartan trim in their bargain-basement models - after all, the Germans use the basic E-Class as taxis - but that is far from the case with the E200.
It is, of course, whisper-quiet, as we've come to expect of vehicles of this pedigree. The nine-speed auto is as effiicient as it is unobtrusive, with the power being delivered in a seamless, intuitive fashion.
Put it all together and this bigger, better E-Class further advances perhaps the world's best passenger saloon.
A car worthy of Bradman. Or maybe even the next President of the United States. If he lets it into the country, that is.
HOW BIG? It's the German equivalent of the Holden Commodore - so it's amply-sized for a full family with all their luggage.
HOW FAST? Well, the model we've tested here is the least powerful of the range - so it's not a world-beater. If you want more grunt, there's plenty available as you step up the model range - but at a price
HOW THIRSTY? The turbocharged, four-cylinder engine and its ultra-smooth, ultra-efficient nine-speed auto transmission allows this big car to deliver a very respectable 6.4L/100km.
HOW MUCH? Again, this is where the entry-level model tested here makes a compelling case. At $89,900 plus onroads, it's almost as affordable as the smaller, less-sophisticated C-Class with many of the features found in E-Class models costing twice as much.