Palaszczcuk responds to 'union thuggery'

AAP
19/10/2016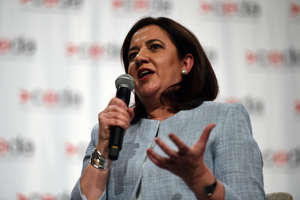 © AAP Image/ Dan Peled Queensland Premier Annastacia Palaszczuk says union officials who break the law should face the full legal consequences, but won't cut ties with the CFMEU over alleged thuggish behaviour captured on video.
A video released by News Corp this week showed a CFMEU official swearing repeatedly and threatening to shut down the Parklands Commonwealth Games Village Project on the Gold Coast.
"If people are not obeying the law, I don't care if that's in the business community of the union movement, they will face the full consequences of the law," Ms Palaszczuk said on Wednesday.