Simon Pegg: I felt like I needed a break - but Steven Spielberg called

Evening Standard
6/07/2016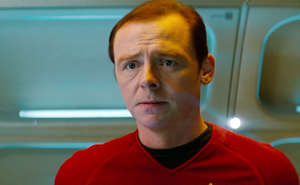 © Getty Images Simon Pegg as Montgomery 'Scotty' Scott in the 2013 movie, 'Star Trek: Into Darkness.'

He made his name as a comedy actor and writer, but Simon Pegg has revealed he would like to be considered for more serious roles.
The Spaced and Hot Fuzz star also confessed to wanting a six-month break when he had a "crisis of confidence" after co-writing Star Trek Beyond.
He told Esquire: "A lot of great comics are often very good serious actors, but they're not given the opportunity because people won't accept them in the role. Maybe that's a bed I've made that I won't be able to get out of."
Pegg said writing the latest Star Trek film, his first major Hollywood commission, was a "challenge" and that he had planned a hiatus before agreeing to appear in Steven Spielberg's forthcoming sci-fi movie, Ready Player One.
He said: "I came out of Star Trek with a slight crisis of confidence. Not because it put me off, it was a fun experience.

"But after having written a Star Trek film and done Star Wars, I felt I'd done everything I wanted to as a kid.
"I felt like I wanted to have a rethink. About where my career was going."
Pegg told his agent to turn down any work unless Steven Spielberg called: "And then he [Spielberg] called. It was like, 'Oh, for f***'s sake…'"