Skoda overtakes competition to high ground

AAP
7/11/2016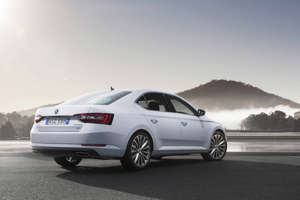 There's a little bit of brand snob in all of us.
Be honest. Who hasn't turned up their nose at a home-brand grocery product from time to time? Or questioned whether a generic brand medicine is as good as one of those we see advertised on the telly?
Same goes for cars.
We might have mostly overcome our prejudice against Korean cars (not to mention those of us old enough to remember when Japanese cars suffered the same stigma). But what about cars from Czechoslovakia? Could they possibly be as good as those made in, say, Germany?
Skoda would like us to believe so.
The company's recently-released, all-new Superb sedan is not just mimicking its corporate cousin from Volkswagen, the legendary Passat - it's actually tackling it head to head.
Once, Skoda - which has been part of the global Volkswagen conglomerate since it was taken over in 2000 - always pitched itself as something as a "poor man's VW". In short, they offered similar technology and quality, albeit bearing a lesser-known marque, as a value-packed alternative.
Now, they're not just trying to slipstream their German stablemates. They've pulled out to overtake.
You see, the entry-level version of the new Skoda Superb actually costs more - by about $5000 - than the equivalent VW Passat. Admittedly, it also brings with it a bit more space and more standard equipment than the Passat - but it's still banking on quite a leap of faith by its buyers.
It's a tactic that might well be justified.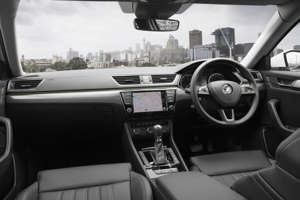 There was a time, going back a decade or so, when the Skoda name was something of a running joke in the automotive world. And yes, the company did build some pretty ordinary machines back in the day.
But getting access to VW's technology, production expertise and development dollars has lifted the Czech brand to new levels of credibility.
They mightn't say so in their advertising - but rest assured at the dealerships they'll be happy to tell you that every Skoda is essentially "a VW beneath the skin".
The irony, of course, is that it's Volkswagen whose reputation has taken a severe hit in recent times, courtesy of the "diesel-gate" scandal that had the German giant apparently falsifying emissions tests last year.
Now it's Skoda taking the high ground. Still, when most of us think of Czechoslovakia we're more likely to think of stern-faced tennis players or gymnasts than motor cars.
But what is beyond doubt is that this new, third-generation Superb is the best car Skoda has ever produced - and by some margin.
It's big, very pleasant to look at and delivers high levels of technology, safety and innovation.
And it also packs in a number of thoughtful little touches to underpin its brand positioning as being "Simply Clever".
Open the door, for instance, and there, tucked into the door trim, is a handy little umbrella, ready to shelter you from an unexpected shower. Same on the passenger side. And there are useful storage pockets on the side of the front seats.
Rear-seat passengers aren't forgotten, with sun shades that can be manually raised to keep the sun off children or babies in the back. And those in the back also get a spot to mount their iPads while they watch movies - as you'll find in some aircraft.
Ample cupholders - and even a bottle-holder in the door pocket, help with storage. glovebox is refrigerated to keep drinks cool, and there's even a rubbish bin to get rid of the trash when you're finished.
A coat hook is sensibly located on the mid-cockpit "B-pillar" - where it can hang pretty much out of the way, rather than across the rear passenger door where it obscures someone's view.
And the boot, as well as being huge, has luggage nets that can help maximise storage capacity.
None of this is ground-breaking - but put together it makes the Superb a very well thought-out, practical machine.
Couple that with long list of standard equipment that runs to adaptive cruise control with autonomous braking, suede leather upholstery, heated front seats, tri-zone airconditioning, electric park brake and an eight-inch touch-screen infotainment system and that %39,990 entry-level pricetag starts to look pretty friendly.
Nine airbags, reversing camera and front parking sensors add to the safety package.
While it's marketed here as a sedan, the Superb is technically a hatchback - with a large rear hatch concealing one of the largest cargo areas of any vehicle on the market - 625 litres, in fact.
The Superb will be offered in three basic variants - a four-cylinder turbo diesel and two versions featuring a turbocharged, two-litre petrol four-cylinder. One pushes 162 kilowatts exclusively through the front wheels, while an all-wheel-drive flagship uses a more highly-tuned version of the same engine, delivering a punchy 207W.
That's the same engine you'll find in high-performance versions of the VW Golf - as is the all-wheel-drive system - although the Superb's bigger size and weight blunts that performance somewhat.
We tested the mid-range petrol version, which still managed impressive performance and decent fuel efficiency with its 162 kilowatts and 350Nm.
The six-speed dual-clutch auto is efficient and fuss-free - although like most of these transmissions sometimes tends to run back when starting up hills. The electronic park brake helps mitigate this irritation.
Its shared heritage with the Volkswagen has helped endow the Superb with very impressive road manners - sturdy, reassuring handling; a smooth and compliant ride and impressive dynamics.
It might not be a sports car but it handles, accelerates and brakes with as much competence as any family could wish for.
Interior space is not so much Commodore-like as limo-like. The previous model Superb was a spacious thing - but this one has grown in overall length (now 4861mm) as well as wheelbase (80mm longer) and width (it's 47mm wider). The result is a car with as much front and rear seat space - and cargo area - as virtually anything on the market.
As for the name? Well, Superb might sound like a bit of an overstatement.
But then again you couldn't call a car the "Very Good", could you?
After all, that hardly passes the snob test.
SKODA SUPERB
HOW BIG? Massively so. It will compete with the likes of the Commodore (at least until it disappears from the market) and matches the big Aussie sedan for passenger and cargo space. In fact rear-seat and boot space is more akin to the long wheelbase Caprice limo.
HOW FAST? With a turbocharged, two-litre petrol engine, it's adequate and, when pushed, quite responsive. If you want more urge, the flagship version pumps out a formidable 207 kilowatts.
HOW THIRSTY? Official consumption is 7.3L/100km on the combined city-highway cycle - pretty frugal for a full-sized machine.
HOW MUCH? The entry-level model tested here starts at $39,990 plus onroads. The diesel adds a further $4000, while the most powerful, all-wheel-drive turbocharged petrol variant will set you back $50,999.