Spice Girls 'planning Hyde Park anniversary concert'

Evening Standard
7/07/2016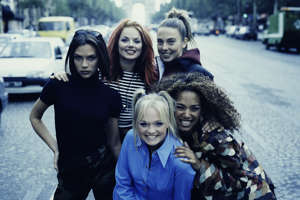 © Getty Images English pop girl group The Spice Girls in Paris.

The Spice Girls are planning to reunite for a concert in Hyde Park, according to reports.
The girl group will perform at the London landmark next year to mark the anniversary of their debut single Wannabe.
"Mel B, Emma [Bunton] and Geri [Horner] agreed Hyde Park would be the ultimate way to launch a reunion next July for their 21st anniversary," a source told The Sun.
"It gives them a year to plan everything and make sure their comeback is spectacular. It would be the most-talked about gig of the year."
The girl power group should mark their anniversary this Friday, but Mel B recently revealed that they have had to delay by a year because they were unable to book a venue for 2016.

Speaking on Live with Kelly she said: "This is the thing. It is our 20th anniversary this year and this would be the perfect year, but places get booked out so what we'll hopefully do is plan to do something to celebrate next year.
"But it's something that we want to do and it will be nice to celebrate and give thanks to all of the fans."
Mel B, Horner and Bunton will all take part in the anniversary celebrations. Victoria Beckham ruled herself out when talk of a reunion first surfaced and it was later reported that Mel C had followed suit in a bid to focus on her solo music career.
Wannabe shot the girl group to fame in 1996. The single spent seven weeks at the top of the UK Singles Chart and topped the Billboard Hot 100 for four weeks.